This week's ryder films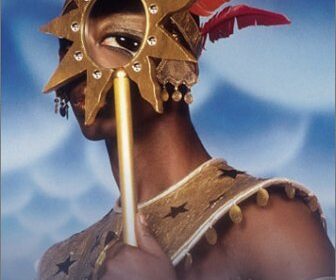 Sexy, audacious, thought-provoking and funny: these are all good things, right? And that's what we get from Aria which opens this Friday in our virtual cinema. In 1987, ten of the world's most creative and celebrated directors were each given the same brief: to choose a piece of opera music and then present a visual interpretation of that music with complete artistic freedom. The result: ten short pieces directed by ten different filmmakers, each interpreting a particular an aria (Vivaldi, Bach, Wagner). These are freewheeling interpretations so if you are looking for something traditional, you might be disappointed. But if you're OK with sexy, audacious, thought-provoking and funny, well, then, this just might be your cup of tea.
The 10 filmmakers are Robert Altman, Bruce Beresford, Bill Bryden, Jean Luc Godard, Derek Jarman, Franc Roddam, Nicolas Roeg, Ken Russell, Charles Sturridge, and Julien Temple.
Aria includes Bridget Fonda's electrifying film debut, a breathtaking performance from Elizabeth Hurley, as well as performances by Tilda Swinton, John Hurt, and Theresa Russell as the trigger-happy King Zog of Albania.
Also opening this weekend: The 11th Green. An investigative reporter, a 1950s government conspiracy, and extraterrestrials — what more could you ask for? The 11th Green is "Wildly inventive . . . a work of meticulous historical reimagination." – The New Yorker
There's more: most notably John Lewis: Good Trouble. John Lewis, who died earlier this week, led an extraordinary life highlighted by his 60- plus years of social activism and legislative action on civil rights, voting rights, gun control, health care reform and immigration. The new film, John Lewis: Good Trouble,tells the story of this national treasure so that generations to come can continue to learn from Mr. Lewis' remarkable story.
We're thrilled to present Peter Sellers' "lost" comedy (and his only directorial effort) Mr. Topaze. Sellers stars as Auguste Topaze, a poor but proud schoolteacher. Unwilling to sacrifice his principles, he loses his job after refusing to alter the failing grades of one of students. Chances are there are at least a few of you who have found yourselves in similar situations (we'll leave it to you to decide how to take that).
Guest of Honour: This is the new film by Canadian filmmaker Adam Egoyan (The Sweet Hereafter). Acclaimed British actor David Thewlis stars as a Toronto health inspector who spends his days frequenting family-owned restaurants and wielding the power to shutter their dreams at the slightest provocation. But serving as a guardian angel for unsuspecting diners can't begin to ease the conscience of a confused and conflicted man.
We're featuring a pair of films about mid-20th century American writers: Shirley Jackson and Flannery O'Connor. Shirley Jackson is perhaps best known for her short story, The Lottery (although her novel, The Haunting of Hill House, is widely considered a master class in how to write a ghost story). Elizabeth Moss gives an uncanny performance as the unconventional writer in the new movie, Shirley. Set in a small Vermont college town (Bennington), in the summer of 1964, Shirley and her husband (the influential literary critic and philandering college professor Stanley Hyman) offer to share their house with a young graduate student and his pregnant wife. The newly married couple have no idea what they're in for.
"In a small town you can lie… you can commit adultery, you can even murder somebody, but you can't not go to church." Here, Louise Abbott evokes the social hypocrisy and harsh realism that inspired the stories of her friend, the celebrated Southern writer Flannery O'Connor. Flannery is the lyrical, intimate exploration of her life and work. Her distinctive Southern Gothic style influenced a generation of artists and activists.
If you're like us, then you like to spend some of your pandemic induced down time solving crimes. We are featuring two delicious murder mysteries: one from Italy and one from France. Both will keep you guessing who is the true murderer until the very end.
THE INVISIBLE WITNESS: A young, successful entrepreneur wakes up in a hotel room locked from the inside next to his dead lover. He becomes the chief suspect, While awaiting trial under house arrest, he enlists the aid of a defense attorney who has never lost a case. Largely told in flashback, this noirish thriller from director Stefano Mordini recreates the days of intrigue that lead up to that fateful night. Characters' motivations begin to blur until no one is quite who they seem to be, leading to a pulse-pounding conclusion that will leave you guessing until the final shot. (in Italian with subtitles; 102 minutes; 2020)
THE GIRL WITH A BRACELET: Lise is 18 years old and is accused of murdering her best friend two years earlier. She's been under house arrest, wearing an ankle bracelet to monitor her whereabouts, hence the film's title. As her trial starts, her parents stand by her side. But once her secret life is revealed in court, her innocence is far from certain and her parents' faith begins to unravel. Directed by Stéphane Demoustier (in French with subtitles; 96 minutes; 2020)
Here's a film for the young and the young-at-heart
Marona's Fantastic Tale: Marona is a mixed-breed Labrador whose life leaves deep traces among the humans she encounters. After an accident, she reflects on all the homes and different experiences she's had. As Marona's memory journeys into the past, her unfailing empathy and love brings lightness and innocence into each of her owners' lives, in this beautiful and deeply emotional story of an average dog and her extraordinary life. (92 min / in Romanian and French with subtitles)
Critic's Pick! Buoyant! A beautiful and original animated film. – The New York Times
Check out TheRyder.com for even more films.
The July edition of The Ryder magazine is on the virtual newsstands.
This month's issue features some great reads: Spike Lee's new movie, K-pop fans as Political Activists, travel stories on Bulgaria and Ecuador, and a profile of IU student Jewher Ilham, whose father is a political prisoner in China.