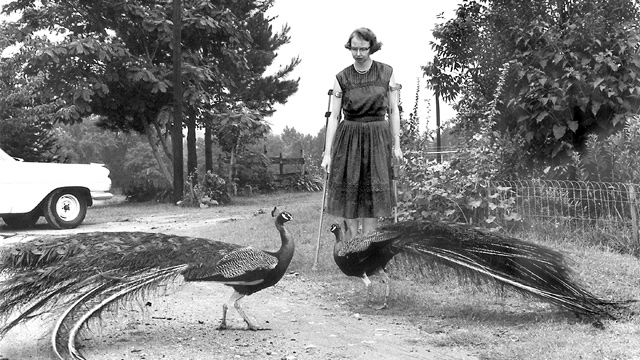 You can watch Flannery right here, right now

"In a small town you can lie… you can commit adultery, you can even murder somebody, but you can't not go to church." Here, Louise Abbott evokes the social hypocrisy and harsh realism that inspired the stories of her friend, the celebrated Southern writer Flannery O'Connor. Flannery is the lyrical, intimate exploration of her life and work. Her distinctive Southern Gothic style influenced a generation of artists and activists. With her family home at Andalusia (the Georgia farm where she grew up and later wrote her best known work) as a backdrop, a picture of the woman behind her sharply aware, starkly redemptive style comes into focus. Including conversations with those who knew her and those inspired by her — Mary Karr, Tommy Lee Jones, Lucinda Williams, Hilton Als and Conan O'Brien (an O'Connor scholar – who knew?) — Flannery employs never-before-seen archival footage, newly discovered personal letters and her own published words (read by Mary Steenburgen) (96 min)
FLANNERY

is an extraordinary documentary. — Ken Burns
Flannery is one of two movies we are showing about mid-20th century writers. You might also want to watch Shirley.
Bonus  Feature: A four-part live virtual discussion series will be available for any participating organizations: The Modern Consciousness: A 'Flannery' Discussion Series will feature guest moderators and panelists alongside the filmmakers for conversations 'On Race' (Monday, July 20); 'On Faith' (Monday, July 27); 'On Disability' (Monday, August 3) and 'On Craft' (Monday, August 10) in relation to O'Connor's work and writings. More information on these virtual events, which audiences can participate in via the film's Facebook Live stream, to come.
WHERE CAN I PURCHASE A TICKET AND HOW MUCH ARE THEY?
Do you have a comment or a suggestion for a film? Maybe you'd like to write something for our magazine. Send an email to editor@theryder.com. We can be talked into almost anything.