Jan 29-Feb 21 ♦ Sunday, Feb 21st at the Buskirk-Chumley Theater ♦ Scroll down for times and  locations
Bear Story / Chile / 11 min
Synopsis: Bear Story (Historia de un Oso) tells the story of a bear who is separated from his family and sent off to perform for the circus. The story serves as an allegory for Chile's Pinochet regime, which tore families apart in the 1970s and left filmmaker Gabriel Osorio's grandfather exiled from his country.
Director's Biography: Gabriel Osorio majored in Fine Arts at Universidad de Chile. Later he specialized in 3D animation. After working on several commercials, movies, and television series, he decided to form his own studio: Punkrobot. Since 2008 he has been directing projects for children's television (Flipos, Muelin y Perlita, Soccer Girls) and television spots. Bear Story is his first short film.
We Can't Live Without Cosmos / Russia / 16 min
Synopsis: Two cosmonauts, two friends, try to do their best in their everyday training life to make their common dream a reality. But this story is not only about the dream.
Director's Biography: Konstantin Bronzit was born on April 12, 1965 in Leningrad, RSFSR, USSR as Konstantin Eduardovich Bronzit. He is a director and writer, known for Au bout du monde (1999), Lavatory Lovestory (2007) and Alyosha Popovich i Tugarin Zmey (2004).
Sanjay's Super Team / USA / 7 min
Synopsis: In Sanjay's Super Team, the new short film from Pixar Animation Studios, accomplished artist Sanjay Patel uses his own experience to tell the story of a young, first-generation Indian-American boy whose love for western pop-culture comes into conflict
with his father's traditions. Sanjay is absorbed in the world of cartoons and comics, while his father tries to draw him into the traditions of his Hindu practice. Tedium and reluctance quickly turn into an awe-inspiring adventure as the boy embarks on a journey he never
imagined.
Director's Biography: Sanjay Patel's earliest artistic influences stemmed from two very different worlds: comic books and Saturday morning cartoons, and the Hindu gods and spiritual culture that came to define his upbringing. Sanjay joined Pixar Animation Studios in 1996 as an animator on "A Bug's Life." Since then he has animated many of Pixar's feature films, including "Toy Story 2," "Monster's Inc.," "The Incredibles," "Ratatouille," "Cars," Toy Story 3" and "Monsters University." In addition to animating, Patel also storyboarded extensively for "Monster's Inc.," "The Incredibles" and "Toy Story 2."  Sanjay eventually turned his attention back to his roots, and began creating art, graphic novels and picture books that re-envisioned Hindu mythology in a modern, pop-culture way. "Sanjay's Super Team" is Patel's personal story and a "mostly true" chronicle of his journey to understand the Hindu world so important to his parents.
World of Tomorrow / USA  / 16 min
Synopsis: A little girl is taken on a mind-bending tour of the future and meets a clone of herself.
Director's Biography: Don Hertzfeldt is a two time Oscar-nominated American independent filmmaker whose other animated films include "It's Such a Beautiful Day," "The Meaning of Life, Billy's Balloon", and "Rejected." His work has played around the world, receiving over 250 awards, and recently made a special guest appearance on "The Simpsons." Seven of his films have screened in competition at the Sundance Film Festival, where he is the only filmmaker to have won the overall Grand Jury Prize for Short Film
twice.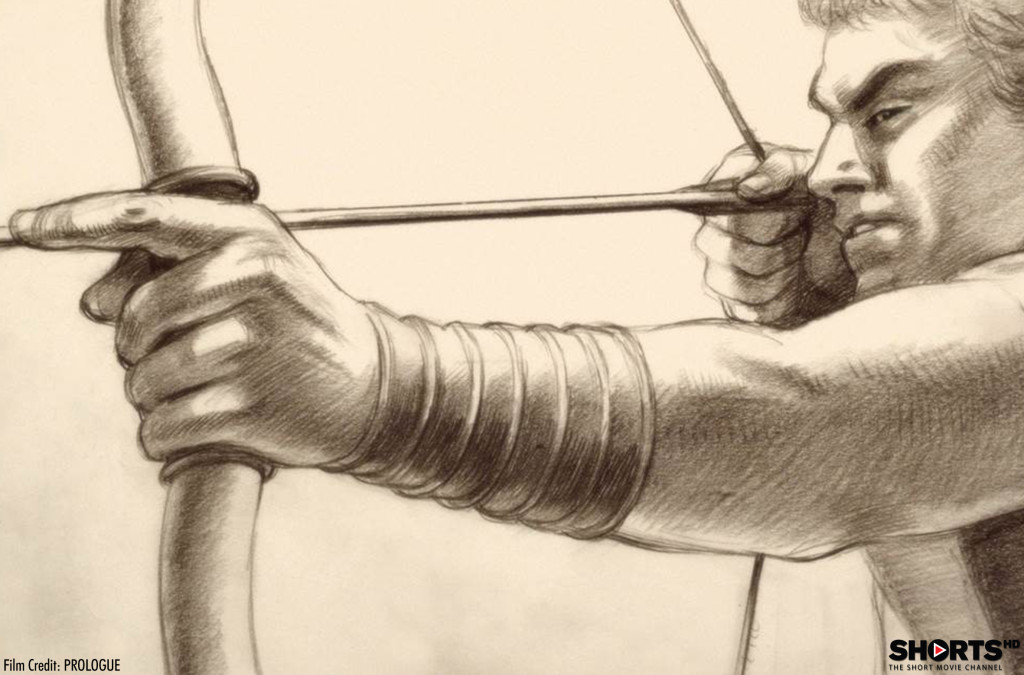 Prologue / UK / 6 min
Synopsis: "Prologue" describes an incident in the Spartan-Athenian wars of 2,400 years ago. In it, a small girl bears witness as warriors battle to death. The dialogue-free project utilizes natural sounds to complement the intense animation entirely animated by Richard Williams himself. Williams – who is best known for his work as animation director on "Who Framed Roger Rabbit," his unfinished feature "The Thief and the Cobbler" and Academy Award-winning "A Christmas Carol "adaptation – has worked on the film for many years in between other projects.
Director's Biography: Triple Oscar winner Richard Williams was born in 1933 in Toronto. Williams was voted by his peers as 'The Animators' Animator' in the Observer and has won over 250 international awards including 3 British Academy Awards and an Emmy. His films include "Who Framed Roger Rabbit" (1988), "The Return of the Pink Panther (1975)," "A Christmas Carol" (1971), "The Little Island" (1958) and "The Charge of the Light Brigade" (1968). Williams has taught international master classes and written a best-selling book, "The Animator's Survival Kit."
Important note: PROLOGUE will be the last film in the program. A beautiful, hand-drawn depiction of a battle scene contains violence and some male nudity; it may not be appropriate for young children. We'll have a Parental Guidance warning prior to this short, so that parents and caregivers can escort children into the lobby or ask them to close their eyes if they'd like (parents and caregivers can keep their eyes open). Other than PROLOGUE, the program is acceptable for kids of all ages. In addition to the five nominees, the animation program includes five more films that were short-listed for a nomination. The total running time is 86 min.
LIVE ACTION SHORTS (Running Time: 107 minutes) Click here for descriptions of the five nominees
DOCUMENTARY SHORTS PROGRAM A (Running time: 87 minutes)
DOCUMENTARY SHORTS PROGRAM B (Running time: 76 minutes)
Click here for descriptions of the five nominees
♦ On Sunday, Feb 21st, the Live Action and Animation programs will be screened at the Buskirk Chumley Theater but with a different ticketing structure.  Tickets can be purchased at the BCT box office or online in advance. One program would be $7, an Oscar Pass for both would be $10. Tickets at the door would be $8.50 and $12.50 respectively.
Where are we? If you are not familiar with campus and not sure how to find us, click here
Sun Feb 14
Oscar Shorts – Documentary Program I 5:00 @ IU Fine Arts (102)
Oscar Shorts – Documentary Program II 6:35 @ IU Fine Arts (102)
Oscar Shorts – Live Action 5:05 @ Bear's Place
Oscar Shorts – Animation 7:15 pm @ Bear's Place
Fri, Feb 19
Oscar Shorts – Animation 6:45 @ IU Fine Arts (FA 102)
Oscar Shorts – Live Action 8:15 @ IU Fine Arts (FA 102)
Peggy Guggenheim: Art Addict 7:30 @ IU Woodburn Hall
Sat, Feb 20
Oscar Shorts – Animation 2pm & 6pm @ IU Fine Arts (FA 102)
Oscar Shorts – Live Action 4pm & 8pm @ IU Fine Arts (FA 102)
Oscar Shorts – Documentary Program I 3pm & 7pm @ IU Fine Arts downstairs (FA 015)
Oscar Shorts – Documentary Program II 4:35 @ 8:35 IU Fine Arts downstairs (FA 015)
Peggy Guggenheim: Art Addict 7:30 @ IU Woodburn Hall
Sun Feb 21 at the Buskirk-Chumley Theater
Animation 2:15 and 6pm
Live Action 4pm and 7:45
Sunday, Feb 28
Watch the Academy Awards at the Buskirk-Chumley Theater