Bobbing For Credibility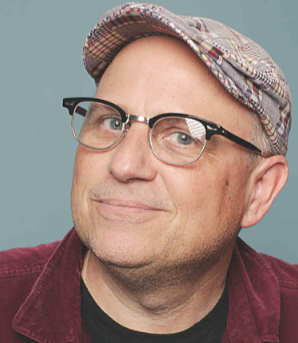 Bobcat Goldthwait reinvents himself as a writer/director ◆ by Craig J. Clark
◆
"If I had any goals, I really hope I can just keep making small movies. You know, I have a body of work that I'm pretty embarrassed of, so if I could just keep making small movies that appeal to a small group of people, I'd be very happy." — Bobcat Goldthwait on the commentary for Sleeping Dogs Lie
◆
Of all the standup comedians who entered the public eye in the mid-'80s, Bobcat Goldthwait may be the last one anyone expected to have serious filmmaking ambitions. An early fixture of the Police Academy series (in which he played street punk-turned-cop Zed), he soon graduated to the ensemble of Savage Steve Holland's One Crazy Summer in 1986, played supporting roles in vehicles for Whoopi Goldberg (1987's Burglar) and Bill Murray (1988's Scrooged), and landed one of his own in the stock-picking talking horse movie Hot to Trot (also 1988). After that, the next logical step was behind the camera. The result was 1991's Shakes the Clown.
"Shakes"
■
On its painted face, Shakes seems like a film that can be encapsulated and dismissed in the same breath since it's centered on the exploits of a foul-mouthed, alcoholic party clown (who is nevertheless capable of bringing joy to children and winning over their parents with his surprising professionalism). All one has to do is sit down and watch it, though, to see that there's a profound strangeness at this Clown's core that isn't even hinted at by its surface trappings or even what is arguably its most famous scene, in which Goldthwait and his fellow greasepaint enthusiasts beat up a group of mimes (their mortal enemies).
For starters, the story takes place within the city limits of Palukaville ("The Nation's Leader in Lard Production"), which has turned clowning into a cottage industry with businesses – including a clown bar called The Twisted Balloon – that cater directly to them. Naturally, Goldthwait's Shakes spends a lot of his downtime between birthday parties hanging out at The Balloon with his clown friends (one of whom is played by a pre-fame Adam Sandler) and hitting on his barmaid girlfriend (Julie Brown), who dreams of being a professional bowler. As for Shakes, he hopes to succeed the retiring Peppy the Clown as host of the Big Time Cartoon Circus, but that job goes instead to first-rate asshole and drug fiend Binky (Tom Kenny, later to gain fame as the voice of SpongeBob SquarePants).
What little there is of the plot kicks into gear when Shakes is framed for murder by a coked-up Binky, who's in the middle of a drug deal with a couple of rodeo clowns (yes, the film also has rodeo clowns) when his boss (Paul Dooley) walks in on them. Forced to go into hiding as a mime, Shakes attends a class taught by an abusive taskmaster (Robin Williams, who's credited as Marty Fromage) and eventually convinces his friends to help him clear his name.
Like its unreliable protagonist, Shakes the Clown doesn't work 100% of the time, and Goldthwait could have stood to explore Palukaville's odder corners a little more. (A visit to a rodeo clown bar is a real wasted opportunity since we never go inside.) We don't even find out where he met single mother Florence Henderson, who comes to in the opening scene with makeup smeared on her face after a one-night stand with Shakes. ("You're my first clown," she says, without much conviction.) All told, it would be another decade before he stepped behind the camera again. I guess he figured he had more to learn about his craft.
When Goldthwait decided to get back into the directing game in the early '00s, he started small with segments of Comedy Central's The Man Show, Crank Yankers and Chappelle's Show. This led to him taking the reins of the 2003 TV movie Windy City Heat, which is essentially a feature-length practical joke on aspiring actor/comedian Perry Caravello, who's impossible to feel sorry for since he's loud, abrasive, anti-Semitic, homophobic and – worst of all – untalented. Of course, even if he did have some acting chops, it would be difficult for him to show them off with chuckleheads Don Barris and "Mole" (Tony Barbieri) tripping him up at every opportunity.
In addition to directing the film, Goldthwait also plays the director of the film-within-the-film, which is also called Windy City Heat and is about a "sports private eye" named Stone Fury, a part Caravello is right to believe was tailor-made for him. First, though, he has to ace his audition with casting agent "Roman Polanski" (Dane Cook) and beat out his main rival for the role, Carson Daly (playing himself). Once he does and the filming commences, Caravello suffers numerous indignities, as well as a series of petty pranks that Barris and Barbieri play on him, culminating in the myriad delays that make them late for the film's only public screening.
One's enjoyment of the final product will depend greatly on how much patience you have for the tiresome antics of Barris, Barbieri and Caravello (and the less said about Tom Kenny's turn as a gay costume designer, the better). Goldthwait picks up the slack, though, with his directorial affectations, including his insistence on speaking through a bullhorn at all times, even when not on the set, and the boots and jodhpurs he wears as part of his ensemble. Also amusing is his absent producer's demand that he "get cracking or you'll be out on the street shooting Hot to Trot 2." Considering how Windy City Heat turned out – both versions – that may have been preferable.
A solid argument for the belief that nobody can – or should – know everything about their loved ones, Goldthwait's 2006 feature Sleeping Dogs Lie is about a grade-school teacher (Melinda Page Hamilton) who frets about whether to tell her boyfriend (Bryce Johnson) her deepest, darkest secret after he proposes marriage. And she has every reason to tread carefully since she performed fellatio on her dog when she was a bored undergrad. (This we're told right at the top of the film, with Hamilton narrating the whole story, so it's not like it's a big secret to us.) Even if it was a one-time thing that she immediately regretted, she intuitively understands it's the sort of thing that can fundamentally change the way a person thinks of you.
Hamilton is still conflicted when she and Johnson head up to her parents' for a visit, allowing Goldthwait to switch gears and observe how being around her conservative parents (Geoff Pierson and Bonita Friedericy) and bitter brother (Jack Plotnick) throws her even further off her game. Because there wouldn't be much of a movie if Hamilton never owned up, she eventually does, and her revelation floors Johnson and gives Plotnick ammo to use against her – and he doesn't hesitate to. Frozen out by her family and ultimately rejected by Johnson, Hamilton gets her own place and goes on the rebound with a fellow teacher (Colby French) who's curious about her past but doesn't push her too hard about it. Still, every interaction with her ex or her family is fraught with tension since any one of them could drop the bomb at any moment. That's when it becomes crystal clear why some pooches should be allowed to slumber.
As dark as Sleeping Dogs Lie sometimes gets, it was a mere warm-up for Goldthwait's 2009 film World's Greatest Dad, which stars Robin Williams as a frustrated novelist who ghostwrites an eloquent suicide note for his douchebag of a teenage son (a sullen Daryl Sabara) when he accidentally asphyxiates himself while masturbating. What Williams doesn't anticipate is the way this simple act will transform his preternaturally unpopular offspring (who was considered a crude, homophobic bully) into a tragically misunderstood martyr – and alter his own life in the process.
This change is most readily reflected in Williams's relationship with fellow teacher Alexie Gilmore, who seems to be on the verge of dumping him when things turn around for him. On top of that, his poorly attended poetry class is suddenly filled to the brim with eager students hanging on his every word, and the school's grief counselor is hot to publish Sabara's journal (which Williams has to forge as well). The only fly in the ointment is Sabara's sole friend (Evan Martin), who's well aware of Williams's deception and could blow the whistle at any moment. That's really a call for Williams to make, though – just not before he gets his moment in the sun on The Dr. Dana Show, where he nearly loses it on air. In all honesty, it would have saved a whole lot of people a whole lot of bother if he had.
Since Sleeping Dogs Lie and World's Greatest Dad established him as a director to watch, Goldthwait has periodically returned to television to work on such shows as Comedy Central's Important Things with Demetri Martin and FX's Maron, starring Marc Maron. The project he really poured his heart and soul into, however, was the 2011 satire God Bless America, which proves that as a writer/director he has a lot to say about the culture we live in.
The action revolves around fed-up divorcé Joel Murray (who previously had a walk-on in Shakes the Clown), a man who has had his fill of his inconsiderate neighbors, the braying jackasses clogging up the airwaves, and his undiscriminating co-workers who parrot it back at him, inciting him to rail against society's ills. He also has to contend with an ex-wife (Sleeping Dogs Lie's Melinda Page Hamilton) who's getting remarried and a daughter (Mackenzie Brooke Smith) who doesn't want to visit with him. On top of all that, he suffers from severe migraines, so after he's unjustly fired from his soul-sucking insurance job he goes to the doctor and is told that he has a brain tumor, which gives him the chance to do some Ikiru-style soul searching. Instead, he teams up with a young rebel (Tara Lynne Barr) who convinces him that he can do a lot more good by killing others who don't deserve to live.
To Goldthwait's credit, it's really hard to take issue with any of the targets they choose (although the scene where they pick off the people talking and texting in a movie theater can be somewhat uncomfortable to sit through). And Murray is vigilant about drawing the line, which extends to his refusal to sexualize the underage Barr. He's also cognizant of the need to pick the right time and place to take his final stand against the culture that got him up in arms in the first place. After all, if you have a message for the nation, you want to make sure the nation is actually listening.
That brings us to Goldthwait's latest, Willow Creek, a found-footage horror film about a couple (played by Alexie Gilmore from World's Greatest Dad and Bryce Johnson from Sleeping Dogs Lie) who venture into the woods in search of Bigfoot. The true nature of what happens to them is shrouded in mystery, but if his past work is anything to go by, whatever they find (and capture on their ever-present video camera) will surely be worth talking about.
[
Bobcat Goldthwait introduces his films
God Bless America
and
Willow Creek
at the IU Cinema on October 31st and appears at the Comedy Attic on November 1st and 2nd.
]
The Ryder ◆ November 2013
PHOTO CAPS
Goldthwait.jpg
Once known for his screechy-voiced stand-up persona, over the past few years Bobcat Goldthwait has been carving himself a niche as a writer/director of darkly humorous independent films.
ShakestheClown03.jpg
Bobcat Goldthwait as the title character of his misunderstood directorial debut, Shakes the Clown.
greatestdadso012910.jpg
Bobcat Goldthwait, in his unbilled cameo as a limo driver, commiserates with Robin Williams in World's Greatest Dad.
1_e_bobcat-goldthwait-_god-bless-america.jpg
Tara Lynne Barr and Joel Murray take aim at an increasingly intolerable society in God Bless America.