Cannes: High Hopes & High Heels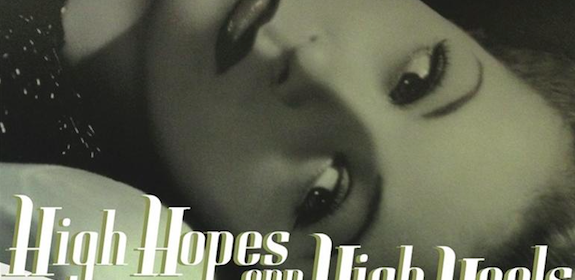 ● by Filiz Çiçek
The train comes to a halt, the guards anxiously running back and forth. It is 7:30 in the morning. A man has thrown himself in front of the train outside of Marseille. "It is probably Mafia related," says the man sitting next to me. At noon I ask if I can get off for a few minutes to get a cup of tea. "No Madame," the guard says sternly. "If you step off of this train, we must stop everything and come searching for you." I feel as if I am in a James Bond film. Until the Ministre de la Justice arrives to determine the cause of death, the train will not move and no one is allowed to get off. "Maybe it was about unrequited love," the young woman from Strasbourg says. "After all, this is France." We arrive in Cannes six hours late. I run straight to the Palais des Festivals to catch the opening press conference of the 65th Cannes Film Festival.
In many ways this year's films show ordinary people crossing boundaries of good and evil, blurring the lines between black and white, dwelling instead in postmodern tints and shades of grey. Something you don't see in today's Hollywood or in American discourse, where everything is distilled in to two binaries — Republican versus Democrat, good versus evil, black versus white, pro-choice versus pro-life and so on. The American impulse seems to want to simplify life. But life tends to be so much more complicated and that is reflected on the screen at Cannes.
The festival begins amidst criticism. "Don't allow young women to think that they might one day have the gall to direct films and to go up the steps of the Palais except on the arms of a prince charming," Fanny Cottençon/Virginie Despentes/Coline Serreau wrote in Le Monde. Several days into the festival, a group of French feminists in beards take to the steps in protest. And it is brought up at the opening press conference: jurist Andrea Arnold of Britain and jury president Nanni Moretti of Italy agree that since they make up half the world's population, women should have a greater voice. But the general consensus of the jury is that Cannes is committed to quality artwork regardless of sex, gender, race, etc.
But that is the age-old conundrum: who decides what is good and what is quality? Historically, mostly male juries and critics who do not identify with "feminine" topics have been dismissive of women's work. How genuine is it to say that race is not a factor when it is obvious that the festival tries to give voice to the underrepresented by favoring films from those communities and countries with directors who have been oppressed? If they are socially sensitive to race and ethnicities, then why not gender?
Being tall and beautiful can be painful, as I found out, if one is trying, or encouraged, or downright required to achieve through high heels. The festival is as much about a grand spectacle on high heels, as it about art and money. They seem to be essential components of the Cannes' glamour. The red carpet is the pulse of the Festival, where glamour, magic and money all march together. Andrea puts it bluntly, "Red carpet is big business." He is one of my flatmates who teaches at l'Université Paris-Sorbonne. He seems to know everyone at the Palais Des Festivals, and every restaurant in Cannes. He is here to do networking like many others at the Festival who are there to buy and sell films. A producer from New York gives the following three pieces of advice: "Don't go to the parties you are not invited to. No means no. And wear good shoes, high heels if you are a female. The guards look at your shoes here — no heels, no red carpet."
I decided to put her advice to the test. I attempt a red carpet premiere with my eco-warrior shoes made of recycled tires and other recycled materials. A female guard in a male tuxedo looks me up and down, stares at my shoes and says, "Very sorry, Madame. No more room." So when I get an invitation to sit by South Korean director Im Sang-soo during the premiere of his film The Taste of Money, I compromise. I want to wear a Trashion dress to promote sustainable living. So I purchase half size bigger stilettoes that everyone seems to be wearing on the red carpet. Their heels are five inches tall, mine are four inches. Terrified of falling, as one French actress would later, it takes me a few minutes to find my balance. My small toes are already blistered, I take them off as soon as I make it to my seat in the theater. I conclude that it is the sedentary people who come up with such ideas.
The nomads, I think, got this one right. They hardly have any distinction between male and female attire. They have pastures to cross, goats to milk, weather to mind, they don't have time for hyper-sexualized fashion. What use do they have for stilettoes? After everyone leaves the theater, I find one of the hosts and plead: "Please, Monsieur, don't make me walk four blocks down through the barricades in these high heels, only to walk back to this same theater, for the next screening. My feet are hurting."
"I am sorry madame but you must follow the rules."
When I begin walking barefoot on the red carpet, he quickly finds me a short cut. As I approach the confused guard at the end of the gate, who is staring at my bare feet, I smile: "I want your shoes; let's exchange." He lets me pass.
Everything is carefully choreographed, to be consumed properly with precise etiquette, style and certain standard of quality. Fans stand on ladders in a designated area for a better view. Some have come all the way from Italy, Germany and Scandinavia just to glimpse the glamour. The journalists, photographers, the guards, the limousines, and the stars all have their designated sections and assigned roles. If you are a female, you need to be mindful of your smile, your lips and hips and legs and bosom — your body is simultaneously celebrated and commodified. Your role is to project magic and glamour. And to be projected upon, to be an outlet for desire, inspiration and hope.
Marilyn Monroe seems to be everywhere at Cannes. She can be seen from a distance on the side of a six-story building. She is part of the collective French imagination. She is "movie star" personified. I ask Andrea about his take on it. Why Marilyn? Why don't the French identify with a French actress instead?
"They live on and get old," he answers. "They don't die young like she did." Nothing like a pretty, dead, young blond woman. In fact there are two female images in public spaces that one frequently encounters: Marilyn Monroe and Mother Mary. I ask a Frenchman at a restaurant about it. "She is so beautiful, a Goddess and died so young, you know." Such sadness in his voice, it sounds like Marilyn died for Cinema. As if she were a martyr. Ste. Marilyn. She is Cinema herself, at least in Cannes.
Miriam, a French staff person from California at the American Pavilion further explains, "This year in particular the theme is Old Hollywood, because the hostess is Bérénice Bejo, the actress from The Artist." Indeed Old Hollywood dominates the hallways; there is not a single photo of a European actor or actress to be seen.
Americans also dominate the competition portion of the festival. Wes Anderson and his cast open the festival with Moonrise Kingdom. Followed by John Hillcoat's Lawless, Andrew Dominik's Killing Them Softly, David Cronenberg's Cosmopolis, Jeff Nichols' Mud, and Lee Daniels' The Paper Boy. Daniels and his cast yield one of the more interesting and intense press conferences. Asked about possible parallels between Matthew McConaughey's gay character in the film and his own sexuality, Daniels grows sincere and passionate: "I know every character in this film," Daniels says. "John Cusack's character was based on my brother who went to jail. Nicole Kidman is my sister. We all have roles to play; we present to you one persona here at Cannes, and at home we have different ones."
This sentiment is echoed by Fatih Akin who speaks briefly before his environmental documentary Polluting Paradise: "There are many worlds coming together here today. Each one of us is a different world you know, from different countries. Cannes, too, is a world in itself. We are here to see and hear one another."
"This is my most personal film yet," Akin adds. "I know directors say that after each film but this truly is." He brought his father and the most of the Çamburnu village activists from the Black Sea coast of Turkey with him. In the end, his sentiments come across through the film and audience gives them a standing ovation. Some of the villagers are tearing up.
Akin then hosts the biggest party in Cannes. There are Turks, Kurds and Germans, British, Austrians, Greeks, Indians. Ewan McGregor and Joshua Jackson are joining in. Akin, who selects his soundtracks before writing his scripts, is deejaying. At 3:00 a.m. the French guards are still trying to get party-goers down from the tabletops where they are singing and dancing. Every aspect of the festival is so carefully planned and choreographed by the French that people seem to jump at a chance to chill out, relax and be themselves rather than perform Cannes 24/7.
The Americans play bingo and karaoke, interrupted with occasional film screenings and small parties. Only the Indian pavilion seems to be as joyful and lively. They offer free food, snacks and drinks, PR materials, interview set-ups. At the international village, only the Americans charge to get into their pavilion as well as for food and drinks. This results is Americans going to the other pavilions, in particular the Turkish pavillion for their baklava and raki.
Turkish Kurds from Germany, some armed with films and some with anti-Turkish government sentiments also occupy the Turkish pavilion. I have long conversations with them about history, life and art. A couple of them suggest that I read certain political books written by political terrorists or freedom fighters, depending on which side you are on. I say that long ago I decided to make art rather than politics.
I have a surprising ally in Rezan Altinbas, a Kurdish director from Turkey. I have always been weary of making art a slave to a social agenda; there is a fine line between art and propaganda. Dickens, Bernard Shaw, Douglas Sirk, R.W. Fassbinder and Yilmaz Güney get away with it because they weave their socialism into a film format, not the other way around. Rezan agrees. His film Sessiz-Be Deng/Silent, is based on his childhood recollections of visiting his father in jail. His female character visits her husband in prison in Diyarbakir in 1984, a few years after the military coup d'état. On the back wall it is written: "Speak Turkish. Speak it a lot." The couple struggles to communicate. They remain in anguish and in silence. As their hands clasp, our hearts clasp with them. Her tear drops down from her face, to his hands, and into our hearts. It is the human heart that is in the forefront, not guns and violence. Or slogans. Whether you are an Aboriginal in Australia, a Native American, an Uyghur in China or a Kurd in Turkey, what better way to say that speaking one's mother tongue is a birthright?
Rezan goes on the win the Palm d'Or in the short film category. In his acceptance speech Rezan dedicates his award "to all the lonely and beautiful women of my country," echoing Nuri Bilge Ceylan's acceptance speech in 2008 when he received the Best Director award for Three Monkeys. Ceylan dedicated his award to his "lonely and beautiful country" which he "loves most passionately." Most of Turkey interpreted those words as a comment on Orhan Pamuk's political statement about the 1915 events involving the Ottoman Armenians. Most Turks believe that in 2006 Pamuk betrayed Turkey, his native country, in order to win the Nobel Prize for literature..
Art, party and politics all seem to run very high at the Turkish Pavilion. It is one of the busiest hubs at Cannes next to the Indians, who are trying to make a big impact this year at Cannes with Gangs of Wasseypur. It is a five-hour epic about a family feud in a place "that is not visible on Google maps," according to its director Anurag Kashyap. "I am confident that my film has broken all cinematic conventions in India," he tells me on the eve of the screening. "In Cannes I am a little nervous, but we will know soon enough how the world reacts!"
Ceylan may not be popular with Silent's Kurdish actress from Turkey,but he seems to be the golden child here at Cannes. He won numerous awards over the years at Cannes. Back at the Turkish pavilion there is a party in his honor. As Turks and Kurds sing collectively in celebration, he stands back and looks in, quietly. He seems to be there and not there, like the character in his film Distant.
Ceylan is the subject of the Coen Brothers short film titled World Cinema. When an American cowboy, played by Josh Brolin, goes to a movie theater and sees Ceylan's Climates on the marquee he asks, "What is that one about?"
"It is about lovers and estrangements and former lovers. Flawed people. Difficulty of love and so forth," replies the box office attendant.
"People talk back in forth in Turkish?"
"Turkic."
"Turkic? But you got them-those words up there to help follow the story along?"
"It is subtitled, yes."
"Hmm…. Is there any nudity?"
"Partial".
"Is there livestock in any of them?"
"Maybe a rabbit in La Regle Du Jeu…"
The Cowboy ends up liking Climates quite a bit. "There is whole a lot of truth in it in my opinion," he comments to the attendant; the point being that Americans need more art-house Cinemas and that Ceylan now symbolizes the master director. And he is awarded the Directors' Choice Award "for excellence, courage and taking artistic risks."
Emir Kustarica and Elia Suleiman play themselves in 7 Days in Havana. Prior to the film's screening, Kustarica joins the "people on the left side of the world," as he puts it, including Benicio Del Toro, Pablo Trapero, Julio Medem, Gasper Noe, Juan Carlos Tabio, Elia Suleiman and Laurent Cantent. Their works speak for them, and they actually speak about their work. Kustarica's is self-revealing and self-deprecating as he is drunk in Havana where he is to receive an award, constantly arguing on the phone with his wife halfway around the world in Serbia.
Elia Suleiman does not speak; rather, Fidel Castro does most of the talking. At the Yemeni Embassy, Suleiman is told that El Presidente will receive him after his speech. After a few hours of waiting, he decides to go to the zoo. When he returns toward the evening, Castro is still speaking on TV. As the day comes to an end, Castro looks up to the sky and says half jokingly: "There is still some daylight left; let us continue comrades." Elia Suleiman's face remains motionless, yet potent. He is Peter Sellers, Charlie Chaplin and Jimmy Stewart combined. He emanates kindness and human warmth. It is official. I am in love with Elia Suleiman!
At a master class the next day we learn how Philip Kaufman, director of The Right Stuff, transitioned from from a math teacher to a filmmaker in France with a hand held camera. His cinematic roots are all too European. A clip from his Unbearable Lightness of Being is presented as one of the most erotic scenes in cinema; Juliet Binoche's character is forced to take erotic photos of a woman, whom she realizes right then is her husband's lover. Kaufman responds with an anecdote; "Stanley Kubrick called me about that scene. I was quite excited: maybe he was going to share a great insight with me. Instead he asked where did I get that Pixar camera (Binoche is using in the scene)!"
On my last night at Cannes after the awards ceremony, Arthur, an aspiring film director from Paris, offers me an invitation to a private party where the jury and the winners will be in attendance. By then I am intellectually and artistically over-stimulated and physically exhausted. My head wants to find a pillow. But then again, I might actually see organic exchanges in a more intimate setting for a change, so I say yes to being his date.
Joshua Jackson and jurist Dina Kruger are first to arrive followed by Ewan McGregor. I notice a middle-aged woman staring at me. She looks familiar. As I approach her to say hi, I realize it is my camera that has been the focus of her attention. "No photos please."
"Ok. No worries."
She is Leila Hatami, one of the stars of The Separation from Iran who was there to present the Grand Prize. I did not recognize her without her head attire and I gather that she didn't want me to photograph her without it. The official fashion law of Iran also applies when she is in Cannes.
As the night comes to an end, my heart is dancing with Fatih Akin punked Against the Wall, and my head is falling into a Pillow Book with Ewan McGregor. Time to write my own. I put my camera to rest. Arthur's voice is following me to the sandy beach; "You are my perfect woman. I want to make life with you!" He's known me only for one short week. I dip my feet into the Mediterranean, breathe in its midnight air. The End.
The Ryder ● 2012