Coming of Age with the Zero Boys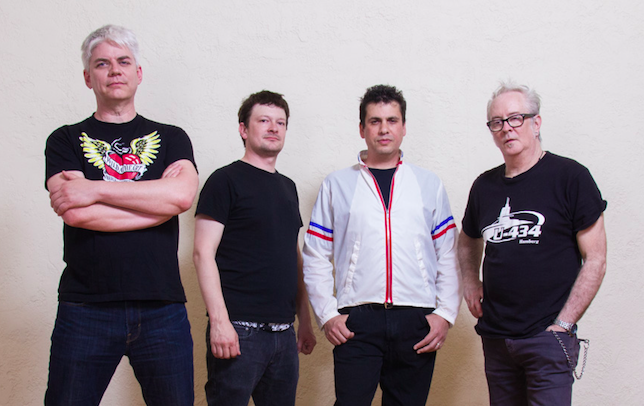 ◆ by John P. Strohm
[Editor's note: In May, 32 years after their debut LP, Indianapolis' Zero Boys went on tour and released a new album, Monkey, which we will review in an upcoming issue. In 2009, their debut 1982 full length album Vicious Circle, as well as the legendary lost second album, History Of, were reissued by Secretly Canadian. We thought this would be a good time to reprint John P. Strohm's appreciation of  the Zero Boys, originally published in 2009.]
The Zero Boys changed my life. My discovery of the 1980s Indianapolis punk band as a teenager helped set the course for my adult life. More importantly, however, the Zero Boys kicked major ass.
I first saw the band in the summer of 1981 at a free outdoor show in Bloomington. I was a lonely, long-haired 14-year-old totally obsessed with rock  n' roll. I played the drums and I dreamed of being in a band. On summer afternoons and early evenings I would follow the thump thump of distant music to live concerts by local hands. Bands seemed to play all the time in those days—on the rickety stage outside the student union, at fraternity ice cream socials, even at random front yard parties. I saw mellow, bearded students playing Eagles covers, freaky "new wave" bands with wraparound shades and bright-colored jumpsuits, and meandering post-hippie jazz-rock weirdos. I didn't discriminate. I loved it all.
The Zero Boys show was a street dance, sponsored by a local cable-only freak radio station. The term "street dance" must have been a holdover from a bygone era, because nobody ever seemed to actually dance. Nevertheless, I never missed a street dance if I could help it, because the bills were strange and unpredictable. All the local freaks came out. That evening I'd already witnessed an arty band of mopey chain-smokers dressed in all black, and a band of high-schoolers, friends of my older brother, playing punk covers. I left happy at that point, but I wasn't about to miss the band I'd really come to see. Someone told me the headliner was a "real" punk band from Indianapolis.
[Image at the top of this post: the Zero Boys today, (l to r) Paul Mahern, Dave Lawson, Scott Kellogg, and Mark Cutsinger.]
◆
I knew a little bit about punk rock. I read Creem magazine religiously, which extensively covered the London and New York punk scenes. My best friend Harry had spent the prior year in England, and he brought back a bunch of punk and ska records that we devoured. Despite my growing interest in punk, however, I enjoyed nothing more than going to the arena concerts to check out the big rock acts. I saw ELO, Van Halen, Styx, Cheap Trick, The Police, ZZ Top, Black Sabbath, and many others. I'd beg my parents to take me to see anything that came through nearby Indianapolis that wasn't completely wussy, and then I'd proudly wear my concert T-shirt to school the next day. As far as I knew, the Police were a punk band, as were the B-52s and Talking Heads.  I had a sense that the culture was in transition, but all I really cared about was whether or not the music rocked.
Although I didn't discriminate among the bands I saw at free shows, I drew a clear distinction between local music and the bands that toured and played at arenas. That's why street dances were free while concerts cost ten bucks, right? The arena bands just played better music. If the local bands were that good, they'd be playing arenas. I clung to this attitude as I watched these four lanky guys from Indianapolis in sleeveless T-shirts and canvas sneakers set up their gear. I hoped they'd play some good rock n' roll, even some Ramones covers. I hoped to be entertained, but I didn't expect all that much. My parents regarded Indianapolis as a cultural backwater; the popular bands from there that I heard on Indianapolis radio seemed to be run-of-the-mill, blue collar bands in the mode of REO Speedwagon, or Bob Seger. As I'd learned from Creem, real punk rock came from faraway, exotic places.
Zero Boys launched into their set with awesome precision and ferocity,  leaving me dazed and disoriented. I'd never heard a band play songs at such fast tempos, or with so much energy. I had no context for the music; it wasn't heavy metal, and it didn't sound like the punk records I'd heard. I guessed it was something new. The singer, a scrappy kid who appeared to be only a few years older than me, commanded the makeshift stage as he launched into one melodic song after another. I couldn't even process what I was hearing but in that moment I abandoned all of my notions about rock music.  I was seeing the future — a future I wanted desperately to be a part of.
The next couple of years, inspired by that fateful summer I diligently filled in my knowledge gaps regarding punk music. I read every fanzine I could find. I snapped up everything I could get my hands on: The Dead Kennedys, Black Flag, The Circle Jerks, Fear, X,  The Misfits, Bad Brains, The Germs. I loved it all, but nothing really compared to my memory of the Zero Boys show. I met other punk kids. I adopted the style of the day of cropped hair, a leather jacket, and army boots, plus buttons and stickers and advertising my favorite bands. I finally started my own band. I told everyone who would listen about the Zero Boys, but few had heard of them and nobody had seen them play.
In the fall of 1982 a few copies of  a lurid, bright yellow album depicting grotesque drawing of a severed head arrived at local stores: Zero Boys' Vicious Circle LP. More than a year had passed since I'd seen the Zero Boys, so my memory was dim. I now realize that the show I saw in '81 occurred around the time they recorded the album. By that time, a couple years into their existence, they'd gelled  into a fierce unit. Vicious Circle is practically unique among hardcore punk albums  since it was professionally recorded and performed by seasoned rock n' roll musicians. The material is as strong as any album of its time with accessible, sing-along choruses;  the execution is far  more assured and realized than many of the hardcore standard bearers. I literally wore out my copy. I learned every word, beat, lick and nuance of the album. To me, at the time, it was perfect.
Vicious Circle lineup consisted of three seasoned instrumentalists in  their twenties (ancient by hardcore stands): Terry "Hollywood" Howe (guitar), David "Tufty" Clough (bass), and Mark Cutsinger (drums). Each had played in pre-punk bands, playing glam, hard rock, even funk. Teenage singer Paul "Z" Mahern completed the lineup. Howe and Cutsinger had scouted Mahern after hearing his high school band play at party. A short-lived original lineup, consisting of Howe, Cutsinger, Mahern and bassist John Mitchell, started out playing covers, eventually composing a set of original material heavily influenced by first-generation punk acts such as The Ramones and the The Sex Pistols.
So how did the Zero Boys evolve from a transparently derivative reasonably competent local punk act into the incredible band that recorded Vicious Circle in the course of year? It's apparent that the addition of Tufty Clough helped. As represented on Vicious Circle, the Aero Boys' rhythm section actually swings, which is rare if not unique in early hardcore. Cutsinger demonstrates a subtle touch on the drums, often adding intricate accents on the cymbals to embellish his thundering back-beat. Clough played the bass with his fingers rather than the typical punk pick style, adding dazzling speed runs and arpeggios to the simple bass lines. The ultra-tight, rather clean rhythm section provides a strong foundation for the dirtier guitar and vocal. Howe plays actual solos — anathema to hardcore — and they work. His signature pick drags and controlled feedback bursts color the spare the spare tracks. Mahern's assured voice serves the songs perfectly; it's at once melodic and abrasive, snotty and sincere. Every piece fits together, every sound is essential.
The Zero Boys were my true entrée into the punk scene, and I didn't look back. I saw them perform several times, and each set proved better than the last. My friends and I listened to and discussed Vicious Circle constantly. We talked about the lyrics, some of which were brilliant while others seemed downright goofy. But it all sounded cool, so we gave it the benefit of the doubt. We drove to Indianapolis regularly from the winter of 1983 through late 1984 to see them perform with numerous lesser acts, both local and national. I lived for the adrenaline rush of sweat, crashing bodies, clenched teeth, screaming the lyrics at the top of my voice with a cluster of kids as Paul held the mic to crowd. Once I returned home from a show at 3:00 am with a slam dancing injury: a gash on my chin that required a late night emergency room visit and seven stitches. I lied to my mother and told her I'd hurt myself skateboarding. I didn't mind being forbidden to skateboard, but I wasn't about to give up going to Zero Boys shows.
Rumors circulated about a Zero Boys album, but eventually the band just stopped playing altogether. Tufty left to join the more established Toxic Reasons, a popular, workmanlike band from Ohio. I'm sure it was the sensible thing to do at the time.  Paul formed a psychedelic band called the Dandelion Abortion and started playing more frequently. My interest in hardcore gradually waned; I started playing guitar, writing songs. After high school, I packed my crate of LPs including Vicious Circle and moved to Boston for college. I didn't listen to Vicious Circle much; I didn't really have to. I'd memorized every second of the record; it had become part of my musical vocabulary. Despite my own love for Vicious Circle, it didn't really occur to me that the Zero Boys were anything but a local band. Then one day a year or so after I'd moved to Boston I was listening to college radio.
I'd started my first real band at that point, and things were coming together very slowly. Every Sunday evening, both for entertainment and for research, I listened to a show on the Emerson College station that featured a live set by a local underground band.
On the Sunday in question, the show featured a new band called the Lemonheads, a trio of local recent high school graduates. I liked their sound, which was sort of a scrappy pop/punk stew with short, melodic songs. The two singers switched between guitar and drums on every other song. Suddenly they launched into a familiar riff, a distorted two-chord boogie. Then the singer came in: "I have no heeeeroes, I'm just havin' a gooooood tiiiiiimmee." My heart lept in my chest; it was the Zero Boys' Livin' in the 80s.
Eventually I met the Lemonheads; later I joined the band. The first time I spoke with them, we discussed the Zero Boys. They'd learned about the band from the Harvard College radio station WHRB. Vicious Circle was considered by aesthetes and record collectors to be a classic in the genre. The album had, apparently, found its way into the right hands and the right ears. The music prevailed.
Once my own career as a musician hit its stride, I sought out Paul Mahern. After the Zero Boys split, he had become a skilled and sought-after audio engineer. He fronted an excellent psychedelic rock band called the Datura Seeds. I found him to be approachable and gracious; he even tolerated my constant raving about the Zero Boys. Paul and I became good friends, and we made several albums together. We even shared a house for a year or so in Bloomington. But I never stopped being slightly in awe of him. In fact, I'm still slightly in awe of him.
The Zero boys eventually re-formed. A young, talented local devotee named Vess Ruhtenberg stepped in on guitar. The re-formed band made a couple of albums in the early 90s, which were released overseas. Various indie labels re-issued Vicious Circle, as interest in the album continued to grow. The most recent re-issue of the album on Secretly Canadian Records, along with the re-issue of the odds and ends compilation History of the Zero Boys (featuring an early EP along with tracks recorded for the shelved second album), represents a high-water mark, over 25 years after its initial release.
The Zero Boys' 2014 Release, Monkey
■
After listening to Vicious Circle for the first time in at least a decade, I completely understand why I connected so strongly with the album as a teenager. The songs and performances have aged well; despite some dated lyrics, they sound as fresh and relevant as ever. One can't help wonder how things would have been different if the album had been released at a different moment. They could have — should have — been superstars. But it doesn't really matter now, because they inspired me and others like me at the time, and they will likely inspire future generations of disenfranchised kids as well. Rock n' roll this great transcends time and context.
[John P. Strohm is a native of Bloomington and currently lives in Birmingham, Alabama. John performed and composed music professionally in bands including the Blake Babies, the Lemonheads and Antenna. He has released three solo albums: California, Vestavia and Everyday Life.  John is now an entertainment attorney, an adjunct law professor and the father of three children. He still writes, plays and records music when time permits.]
The Ryder ◆ June 2014