Good Kids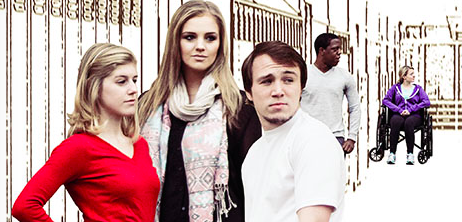 Naomi Iizuka's new play confronts sexual assault on campus ● by Bruce Walsh
Naomi Iizuka has made a career out of telling other people's stories with a deep and abiding empathy. Over the last 20 years, her singular works – like Polaroid Stories and Skin – have been regularly produced around the country and Off-Broadway. Though she doesn't typically write from her own experience, her plays have a distinctly personal air about them. One of her best-known early works, Tatoo Girl, is a dreamlike tale of mid-life crisis. She was just 27 at the time.
This February Iizuka's latest, Good Kids, will be presented – in just its second-ever production — by Indiana University. The piece marks the first Big 10 Conference new play commission ever, which sought to create more roles for female actors by hiring female playwrights to create large cast plays.
Good Kids is based on the Steubenville, Ohio sexual assault case in which two Steubenville High School football players were convicted of the rape of a 16-year-old girl. Incapacitated by alcohol, she said she did not remember what happened that night, but there was abundant evidence, in the form of text messages, videos, and photographs shared via social media by witnesses and by the football players themselves.
[Image at the top of this post: Good Kids.]
●
Bruce Walsh: Was the subject matter of this play predetermined by the commission?
NAOMI IIZUKA: No. After talking with Alan MacVey [Chair of the Theatre Arts Department at the University of Iowa] about the Big Ten initiative, it seemed important to write about issues that students and faculty were grappling with right now.  I'd already been thinking a lot about the Steubenville Ohio case and the issues it raised.
BW: To what degree is Good Kids based on the Steubenville, Ohio sexual assault case?
NI: The events of the play certainly have a lot of similarities to the events in Steubenville. But, sadly, the facts of that case are very similar to quite a number of high school and college sexual assault cases, in terms of competing narratives and the role alcohol plays. But there's also a [campus] culture to examine: with a lot of troubling, unexamined ideas about how women should dress and act. There's a lot of victim blaming.
BW: What surprised you in the process of creating this play?
NI: The number of lives that have been impacted by sexual assault amongst the population that I was working with. Obviously it's an emotional topic, but it was very clear that there was a hunger to talk about this issue – about the ways women and men are perceived and misperceived, and the ways the media gets it wrong. People were invested in a way that was – for me – beyond the norm for a new play process. Everyone had a personal connection in one way or another.
BW: How do you write characters that have experiences vastly different from your own? Most of the characters in Good Kids are high school students. How do you write from their point of view?
NI: People often say, "It's important to write from what you know." And I think that's true. But I think it's equally true that it's important to exercise some sort of inquisitive, empathic muscle.  I did do a lot of research. I found some helpful high school students to quiz on the vernacular.
BW: Did you change the script in rehearsal?
NI: Yes! The first time I heard any part of the script was at IU, and that was just the first 30 pages or so. I changed a great deal after that. Also, I was in residence at the University of Michigan for the first week of rehearsals. To say I rewrote it is an understatement. I just really took the whole piece apart and rebuilt it. The story and the characters were the same, but the content line-by-line… I don't think there was a line that went untouched. I am unafraid of rewriting. I say this to my students all the time: The big event of writing a play is in the rewriting. You write a first draft and, with any luck, that draft gets at something. Hopefully, it has accessed something inside of you and brought that to the page, in some fashion. But the rewriting is where the real work is.
The Ryder ● January 2015