The Canine Muse
William Wegman and His Weimaraners: collaborations between filmmakers and their muses have long been recognized within both Hollywood and the underground.

By James Hook
Martin Scorsese and Robert De Niro. Andy Warhol and Edie Sedgwick. Celebrated artistic collaborations between filmmakers and their muses have long been recognized within both Hollywood and underground modes of filmmaking. What does it look like, however, when the muse in such a relationship happens to be a canine?
Such is the case in the unparalleled partnerships between William Wegman and his Weimaraner pets-turned-stars. A prolific multimedia visual artist and filmmaker who holds an MFA in painting from the University of Illinois, Champagne-Urbana, Wegman has shot a virtually uncountable number of film and video works since 1970. Some of these run mere seconds, while others irreverently reimagine such childhood staples as The Hardy Boys or The Twelve Days of Christmas. A selection of these films will screen at the IU Cinema in The World of William Wegman shorts program, part of the Underground Film Series, on Friday, September 8, at 6:30 p.m.
Mostly constant through this work is the presence of one or more canine collaborators. First came Man Ray, star of many Wegman shorts throughout the 70s. Man Ray's death in 1982 marked the start of a four-year gap before the appearance of a new muse, Fay Ray. Appropriately, Man Ray's and Fay Ray's respective namesakes gesture toward the realms of fine art and commercial entertainment, an artificial binary Wegman's career has never recognized—his work has been welcomed at the Centre Pompidou and on Saturday Night Live. Something of a repertory company of canines materialized following the 1989 birth of Fay's puppies Battina (Batty), Crooky, and Chundo.
While there have been more Weimaraners since, Fay and her puppies are the dogs most seen by countless Millennials (and their parents) thanks to appearances on that bedrock of children's television programming, Sesame Street, beginning in 1989. Here the dogs would run into an empty frame and pose together to corporeally create letters and numbers. They also enacted nursery rhymes and performed in sketches designed to highlight neighborhood service workers such as the waiter, the truck driver, and the ophthalmologist—with the aid of full costumes and the uncanny incorporation of human hands.
One downside to the, well, doggedness with which these iconic images have maintained their hold in our collective pop-cultural memory is how another side of Wegman's artistic sensibility has been overshadowed. His earliest video works, for instance, decidedly do not fit adjacently to a song by Big Bird, but would feel very much at home in a retrospective that also featured the works of, say, Bruce Nauman, Nam June Paik, or Bill Viola.
Many of Wegman's short films are underscored by an existential absurdity that would not be out of place in a one-act by Samuel Beckett.
Art critic Kim Levin has situated Wegman within what she identifies as an "aesthetic of the amateur." Indeed, Wegman's short films can sometimes feel like home movies, but only to a point. Although shot in Wegman's studio space with simple camera setups and little if any editing, rather than capture the quotidian in any uncomplicated way, the activities in many of these films are underscored by an existential absurdity (or, perhaps, an absurd take on existentialism) that would not be out of place in a one-act by Samuel Beckett. They veer from the borderline grotesque (e.g., Wegman expels milk from his mouth for a cooperative Man Ray to lap up off the floor) to the whimsically meta (e.g., Wegman and the dogs reenact in-studio their 1991 appearance on Late Night with David Letterman).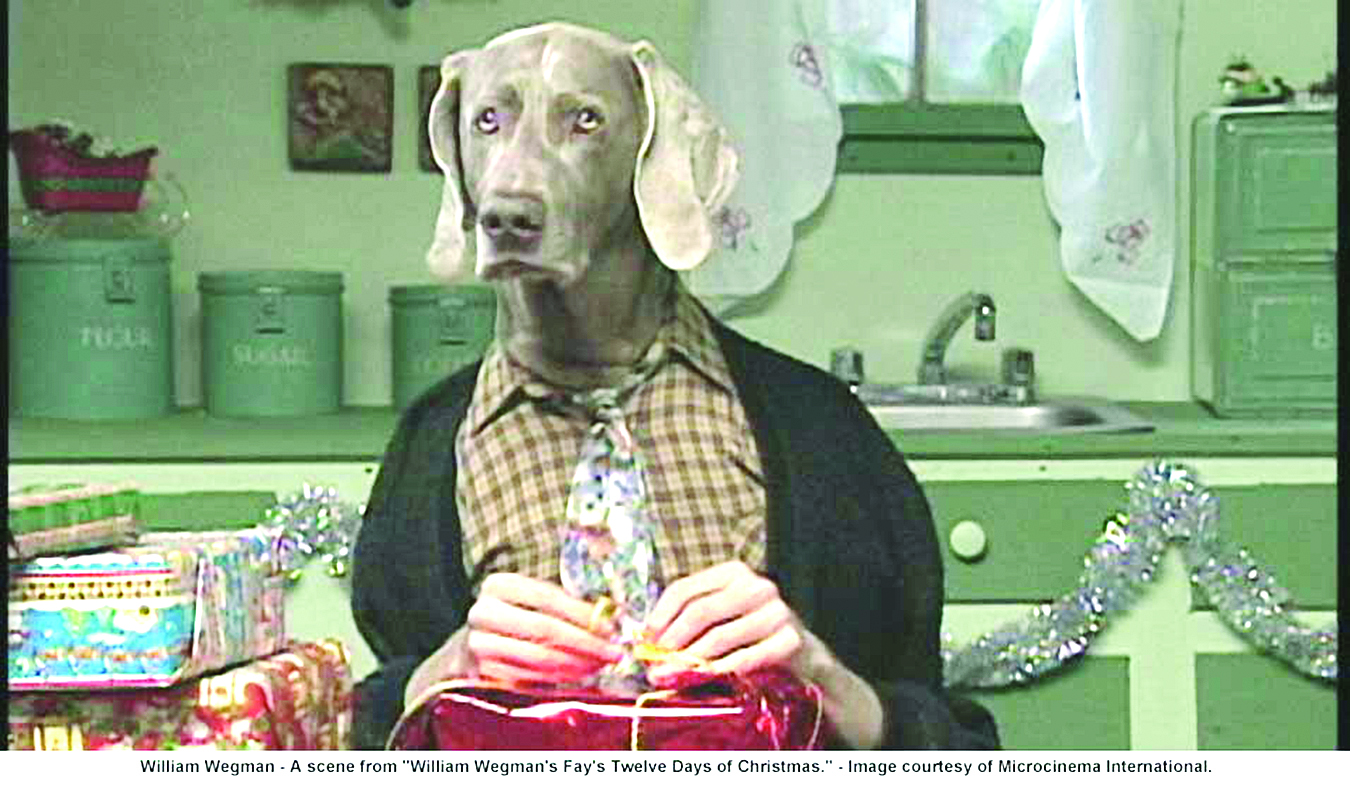 That vexed label of "postmodernist" has often been applied to Wegman and it is not incorrect. Even his earliest shorts display confidence that his audiences are conversant in the expectations and conventions surrounding specific genres, rules Wegman then revels in exaggerating or breaking. 1978's Man Ray, Man Ray, for instance, is a dual biography of the canine Man Ray and the famed surrealist photographer who preceded him. Constructed from talking head style interviews, still photographs, and voiceover narration, this "documentary" blurs together biographical details from the lives of both of its subjects and manages to incorporate an intermission and epilogue into its five-minute and twenty-three second running time.
The Hardly Boys in Hardly Gold sits somewhere in-between the categorically unmistakable video art and the spiritedly playful Sesame Street segments. Shot on location in Rangeley, Maine using 35mm and premiering at the 1996 Sundance Film Festival, the film is a technically accomplished tribute to the pseudonymous Franklin W. Dixon mystery series Wegman read as an adolescent. Herein sisters Batty and Crooky follow in the sleuthing shoes of brothers Frank and Joe; the voiceover narrator (unmistakably Wegman himself) helpfully clarifies, "Hardly boys, they were girls and dogs." Whitney Museum curator Joan Simon has explained that for Wegman this casting was perfectly logical, as Weimaraners can be understood as "detectives by nature, tracking and sniffing for clues."
Wegman's Weimaraner muses are certainly not the first to bridge the categories of canine and star—this honor can be traced at least as far back as Rin Tin Tin in the silent era. Their image has, however, left an indelible aesthetic mark that continues to delight and baffle as it frustrates categories: Is the work fine art or kitsch? Does it appeal to children or adults? Is it best associated with the museum gallery or the television set? Are its characters dog-humans or human-dogs? As (surrealist) Man Ray once declared, "I like contradictions." So too, I believe, does Wegman.