DANCE: Hot Times On A Hard Floor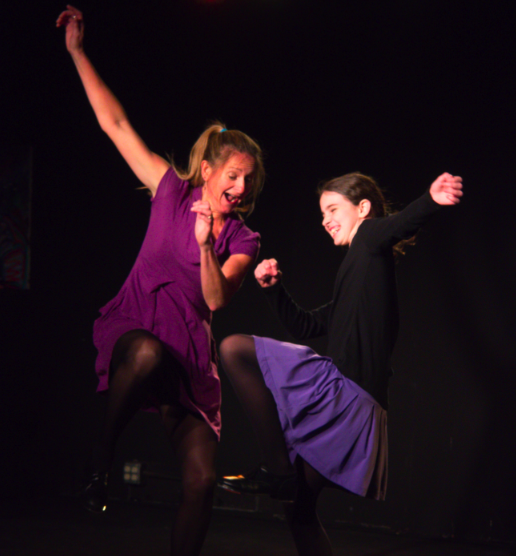 ▼
by ◆ Paul Sturm
As a kid, I had square dance class every other Friday in my grade school gym  It was part of our requisite phys ed regimen. Not ballroom or ballet, modern or tap, mind you; not Lindy Hop swing dances for jitterbugs (which I only saw in movies); not sassy "jazz" dance moves, which hadn't yet migrated from Broadway to rural vernacular. We were years away from rock bands' dominion over school dances. Our media piped the likes of Mitch Miller and Lawrence Welk, and the American folk music revival was in full voice — and no one really danced to Burl Ives, The Kingston Trio, or Joan Baez.
So square dancing, and occasional contra dancing, was what we had to know to be socially adept in our '50s/'60s farm-&-coal belt heartland. At church socials and barn dances, in schools and public gatherings, if people danced to music – and people love dancing to music – square dancing was it.  (It's still the official state dance in 21 states and the official state folk dance in 3 more.) In some communities, they peppered their square and contra dancing with the hard-soled rhythmic stomp of flatfooting and clogging. More visceral than tap, clogging gave every reluctant pre-teen Terpsichorean a much-welcomed invitation to make noise with their feet. Add fruit punch and white cake, and what's not to love?
What I didn't then know was that square dancing, contra dancing, clogging — all of these "American" dance forms derive from European dance styles that extend back centuries.  And what I couldn't then predict was that I'd end up living in a bodacious hub for traditional American dance: our humble burg of Bloomington.
In 1972, IU folklore student, Dillon Bustin, and a cohort of likeminded B-town twenty-somethings began a weekly gathering to revive traditional American old-time music and dance, becoming known as the Bloomington Old-Time Music and Dance Group — an informal army of old-timey enthusiasts who gather weekly to this day.
[For those who want to learn more about this grand Bloomington tradition, John Bealle has written an affectionate history entitled
Old Time Music and Dance: Community and Folk Revival
,
published by IU Press
.]
One of the more significant outgrowths of BOTMDG was the formation of Shuffle Creek Dancers, a cadre of five dancers whose skill and dedication to traditional dance moved into a professional caliber and aspiration. Shuffle Creek Dancers became Rhythm In Shoes, which continues as a professional trad-dance ensemble, now located in Dayton, Ohio. Even though the dance company, and many of its members, came and went, a few local souls have kept percussive dance alive in Bloomington — most significantly, Tamara Loewenthal.
Loewenthal was one of the founding members of Shuffle Creek Dancers, back in 1980. Today, she is half of the performing duo Fiddle 'n' Feet, with her partner, Jamie Gans, on fiddle. She is an Indiana Arts For Learning Artist as well as an Arts Learning Artist for Ohio and Kentucky). She teaches percussive dance classes, and she is a multi-year Indiana Arts Commission (IAC) Individual Artist Grant recipient. In addition to performing and teaching traditional dance, Loewenthal calls square and contra dances for the Bloomington Old-Time Music and Dance Group and for Bloomington Contra Dance. (She called a great afternoon of square dance at Lotus in the Park during Lotus Festival 2012.)
The weekend of January 23-25 will be chock-full of BOTMDG, On Thursday, the 23rd, Loewenthal is presenting her Seventh Annual Percussive Dance Extravaganza at the Ivy Tech Waldron Center.  This year, with the support of IAC funding, she's also offering a series of master class workshops on clogging and old time music on Friday and Saturday. (See the lineup of events below). She'll call a public square dance on Saturday night in the Harmony School gym.
I asked Loewenthal how rehearsals are going for her upcoming Dance Extravaganza. "The process has been going really well. With the IAC grant, we started the rehearsal process earlier, and the body of work has grown;  the concert this year allows the presentation of my accumulated body of work which includes several new pieces. I choreographed everything that we'll perform.  Even when I began dancing, I was choreographing. I love figuring out the dancers' directions, how to 'get there.' What's the pathway? How are we going to move in the space? I like seeing shapes, like those old Busby Berkeley movies where the camera pans over the dance scene and you see these great, kaleidoscopic shapes and patterns, and you wonder where everything will go next. I'm inspired by that effect in creating my dances."
Many know Loewenthal as a solitary dancer/clogger. She and Gans often perform at the Farmer's Market and elsewhere, and she has danced on stage with several Lotus World Music and Arts Festival performers over the years. But it's in the ensemble dances she features in her annual concert that Loewenthal's choreographic talents shine. Whether for duo, trio, quartet, or larger forces, she keeps her dancers moving, and she moves them across the floor with inventive interplay and geometric design.
Loewenthal also maintains variety in her annual Dance Extravaganza concerts by presenting much more than clogging. Each year, the concert incorporates a range of traditional dance styles, and this year's extravaganza is no exception.
"The largest portion of what we'll be doing is in the clogging and flatfooting tradition. It's very conducive to the old time style of music I feature in our concert. We add a little bit of hand clapping, some body percussion, and a little bit of tap on some dances. Clogging is very much about the downbeat and keeping everything steady, while tapping has a lot of syncopation and is often about pushing the beat.
"We're also doing some French Canadian stepdance, which is different than English clogging. It's a very 'up' style because the French doublé rhythm is more upbeat. You shuffle more with double-toe movements rather than the heel-toe of clogging. So you dance more on your toes, with a lot of precision, and your arms are more at your side.
"But clogging is my favorite style of dance because I feel so clearly how it connects to the music. In terms of dance, for me, I loved the music first, and then I social danced to it through square dance, and when I realized you could make rhythms to this music, that's when I got excited about dance.  I knew that's what I wanted to do."
Traditional American dance forms aren't readily taught anymore, so it requires a special commitment to master the many dance styles in Loewenthal's repertoire. "In 1981, I began going to dance camps around the country where people could go and learn more about traditional dance styles.  I went to several of those dance camps, and that's where I learned about and studied all these different dance styles."
Loewenthal has studied with many great step dancers including Gregory Hines, Savion Glover, Brenda Bufalino, Benoit Bourque, Pierre Chartrand, Mandy Sayer, and John Timm. She's won awards for her clogging, including a blue ribbon at the Mount Airy (NC) Fiddler's Convention, and in 1999 she received a prestigious Arts Council of Indianapolis Creative Renewal Fellowship to study with masters in the French Canadian stepdance field.
In many ways, and to many people, Loewenthal is the irrepressible engine for Bloomington's clogging revival of the last decade. Between classes, concerts, Farmer's Market performances, school programs and more, she keeps this tradition alive in our town and in the Midwest. I asked her how she stepped into that role.
"By around 2000, Rhythm In Shoes had already moved to Dayton, and several of the dancers had left Bloomington to pursue other career opportunities, and there just wasn't any percussive dance presence in town anymore. So I began teaching classes in 1998, 1999; and as my students wanted an outlet for more of this kind of dance, I wrote an Indiana Arts Commission grant in 2007 for a concert. It got provisionally funded, so the first Percussive Dance Extravaganza concert was in January, 2008.
"I think there are two reasons why it's difficult to sustain a performing dance troupe. Learning to dance a rhythm in an accurate way is difficult, and keeping the stamina and fitness to continue practicing this kind of dance performance is difficult. So when I was interested in starting up a group again, I started with lessons because that was an easier way to attract and engage people. As dancers realized that one class a week was enough to only learn one dance over several months, we were able to add more classes and more rehearsals. Everyone lets me know how much they want to do, and I build my percussive dance concerts around how the dancers want to participate. It's such a joyful, shared art form that people love doing it, and viewing it."
This growing posse of traditional dance practitioners has allowed Loewenthal to plan more performances, with more frequency. She's coined these dancers her "Foot Squad" and she and Gans did a couple Fiddle 'n' Feet concerts last year where the duo was expanded with Foot Squad dancers.
Led by Loewenthal, the "Foot Squad" company for the Percussive Dance Extravaganza will feature dancers Annie Bartlett Stowers, Suzannah Edgar, Mary Beth Roska, Cliff Emery, Allana Radecki, and Katie Zukof, as well as students from Loewenthal's percussive dance classes.
Given her love for old time music, Loewenthal gives each Extravaganza concert an added blast of artistic excellence by recruiting all-star old-timey musicians from Indiana and beyond. This year's Extravaganza Old Time Band includes Jamie Gans and Brad Leftwich on fiddles, Sam Bartlett on banjo and mandolin, Robert Widlowski on bass, and special guest John Schwab on guitar. Additional musicians will include Eric Schedler on piano and accordion, Zach Moon on Irish flute and whistle, and Marielle Abell on vocals. Hudsucker Posse members Paula Chambers and Clara Kallner also will perform.
Following the Thursday concert, and as a big-hearted invitation for Bloomingtonians to "embrace all things old-time," Loewenthal has organized the first ever Extravaganza Weekend with a series of classes and events all held at Harmony School, 909 E. 2nd Street.  All events have paid admission; contact Loewenthal for pricing and registration info online or at 812-219-1890.
Friday, January 24, features an old-time guitar workshop with John Schwab (7-9pm).
Saturday, January 25, events include:
Clogging master class with Tamara Loewenthal (2-4pm)
Old-time guitar workshop with John Schwab (2-4pm)
Irish fiddle workshop with Jamie Gans (2-3pm)
Old-time fiddle workshop with Brad Leftwich (3-4pm)
Old-time banjo workshop with Sam Bartlett (3-4pm)

Square Dance in the Harmony School gym, 8pm.  (The Extravaganza Old Time Band pulls out all the stops for a square dance called by Extravaganza Weekend artistic director, Tamara Loewenthal.  No experience — and no partner — necessary!  Just bring your most comfortable dancing shoes.)
For newbies and the uninitiated, the Seventh Annual Percussive Dance Extravaganza will offer a memorable evening of exceptional old time music and traditional rhythmic footwork – including English clogging, flatfooting, tap, French Canadian stepdance, and a longsword dance – conceived and choreographed by Tamara Loewenthal, and performed by Loewenthal and her Foot Squad dancers.
According to Loewenthal, "I think anyone who comes to the concert will experience an incredible amount of joy and beauty, not only in the complexity of the dance but also in the wonderful, dynamic interplay of dancers and live musicians.  The exactness of everything commands attention.  It's very exciting and filled with joy.  The Extravaganza is an expression of the vital old-time dance and music scene in Bloomington, and a celebration of the joy of making beautiful and powerful rhythms with our feet."
Tamara Loewenthal's Seventh Annual Percussive Dance Extravaganza is Thursday, January 23 at 7:30pm in the Ivy Tech Waldron Center auditorium, 122 S. Walnut St.  Admission is $15 in advance, $18 day of show; tickets are available at Bloomingfoods or from Loewenthal online or 812-219-1890.  The concert always sells out, so I recommend getting tickets in advance.
The Ryder ◆ January 2014