Small Town Punk Band Aims To Revive The Scene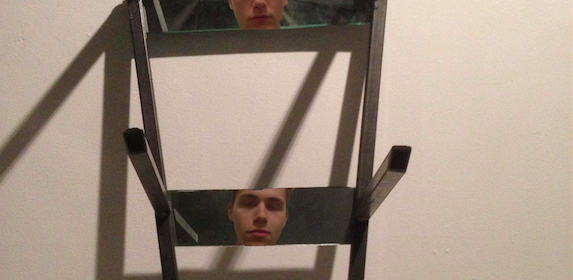 by ● Sophie Harris 
Is punk dead? Some might say yes, but Jello Biafra, former member of the Dead Kennedys, thinks there's hope for the future of Punk in America. With bands like Stabscotch forming in college towns across the US, he may be right.
James Vavrek, Tyler Blensdorf, and Zack Hubbard met as students at Crown Point High School and formed Stabscotch when they migrated to Indiana University.
[Image at the top: The Faces Of Zack Hubbard, James Vavrek, and Tyler Blendsdorf Are Hidden In The Rungs]
●
Their name refers to the knife in the fingers game — where one person places their hand face down on a flat surface, fingers spread apart, and a second player with a sharp knife stabs the space in between the fingers. (I like to be the person with the knife.) In the past semester, the Stabscotch released a 10-song album that was released in May on Bandcamp. The album was named Eldritch, and the members pride themselves on the variety displayed throughout the tracks.
"We work on music between classes, during the evening, whenever our schedules will allow it," says Vavrek. "It's important to us."
The band members know that the scene in Bloomington doesn't promote a lot of punk, and they face challenges finding a fan base and forming a solid following.  However, due to the music scene in Bloomington, the band members have searched for other forms of music support. Instead of focusing all their efforts on local endeavors, the band members say they use the Internet to find other punk lovers out there.
"We've connected with people all over the world through our music," says Vavrek, who uses social media and the Bandcamp site to promote their original material.
House shows are a popular form of demonstration for local bands to showcase material and meet people, and Stabscotch takes advantage of these opportunities whenever they can.
"House shows are great because there are tons of random people there, and sometimes you'll make new fans if they like what you've been playing," says Vavrek. He mentions that the shows have a tendency to get rowdy, but that that works well with their sometimes-aggressive style of music. The band members mention that sometimes they have to adjust to the vibe of the crowd, depending on the show or audience.
"One of the best things about punk music in general is that it's a great way to channel your energy, aggressive or otherwise," says Vavrek.
For Blensdorf, his main interest resides in the creative elements of the band.
"Tyler has the biggest motivation to write and create," says Vavrek, "And we all really pull weight in different arenas of the band."
Although the band members agree that they love punk music, they're open to adapting to what they've got to work with.
"We know there's not much of a punk scene here, and we want to make our fans happy," says Vavrek. "We don't want to box ourselves in to something concrete if it will limit us performance-wise. Music is adaptable and always changing, and so should we."
The Ryder ● December 2014