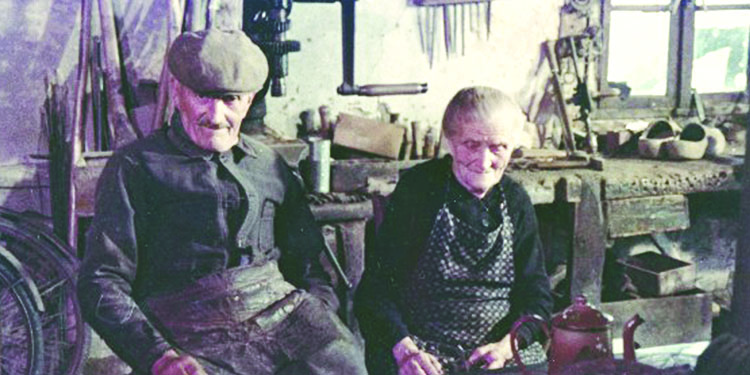 THIS WEEKEND'S SCREENINGS
April 4
Grand Piano 6:45 @ IU Fine Arts
A Farewell to Fools 7:30 @ IU Woodburn
Cousin Jules 8:30 @ IU Fine Arts
 

April 5
Cousin Jules 4:00 & 8:15 @ IU Fine Arts – Last Chance!

Grand Piano 6:30 @ IU Fine Arts
A Farewell to Fools 4:30 & 7:30 @ IU Woodburn
 

April 6
A Farewell to Fools 7:00 @ Bear's Place
scroll down for additional screenings
Dominique Benicheti's Cousin Jules enjoyed acclaim at festivals after its completion in 1973 but never got distribution, even in its home country. (Benicheti's refusal to let his film be screened in anything other than CinemaScope and stereo meant most art houses couldn't accommodate it.) Nearly lost to the annals of cinema, the film was rescued after the director's 2011 death. Cousin Jules made its U.S. debut at the 2012 New York Film Festival, almost 40 years after it was made. An almost wordless, wholly observational account of the daily lives of the director's cousin Jules and his wife Felice, French farmers living alone in rural Burgandy. Cousin Jules is a time capsule; although it does not exactly burst with mainstream potential, patient and observant moviegoers will be transported by this long-lost gem. (France; 1973, 2013; 91 min) Playdates: March 21, 22, 23, 28, 29;  April 4, 5, 6

The Playlist:  A masterpiece…Cousin Jules has finally been found and is receiving its due.
The Hollywood Reporter:  For the patient viewer, particularly one seeking respite from the modern world, this day-in-a-life may be an almost spiritual experience.
 Time Out New York: For 91 minutes, the pleasure of the Guiteauxes' company is ours. We are ultimately the richer for it.
April 2
Grand Piano 7:00 @ The Back Door
April 4
Grand Piano 6:45 @ IU Fine Arts
A Farewell to Fools 7:30 @ IU Woodburn
Cousin Jules 8:30 @ IU Fine Arts
 

April 5
Cousin Jules 4:00 & 8:15 @ IU Fine Arts
Grand Piano 6:30 @ IU Fine Arts
A Farewell to Fools 4:30 & 7:30 @ IU Woodburn
 

April 6
A Farewell to Fools 7:00 @ Bear's Place
 April 9
A Farewell to Fools 7:00 @ The Back Door
 

April 11 & 12
No God No Master 6:45 @ IU Fine Arts
A Farewell to Fools 7:30 @ IU Woodburn
Grand Piano 8:15 @ IU Fine Arts
 

April 13
No God No Master 7:00 @ Bear's Place
 

April 16
No God No Master 7:00 @ The Back Door
April 18 & 19
Redwood Highway 6:45 @ IU Fine Arts
No God No Master 7:30 @ IU Woodburn
A Farewell to Fools 8:30 @ IU Fine Arts
April 20
Redwood Highway 7:00 @ Bear's Place
 

April 23
Redwood Highway 7:00 @ The Back Door
April 25 and 26
Redwood Highway 6:30 @ IU Woodburn
Aftermath 7:00 @ IU Fine Arts
No God No Master 8:15 @ IU Woodburn