Since the Ryder Film Series began in 1979, we've rarely gone more than a week without bringing at least one new film to Bloomington. Now, realistically, the earliest we will begin in-theater programming again will be ​​in mid-May. We hope to reschedule all of those films that have been postponed, as well as to program several exciting new films that have recently been released.
We plan to continue to publish The Ryder magazine.
With most of our distribution locations closed, however, the magazine will be published electronically. In the meantime, here's what you can do to help sustain us: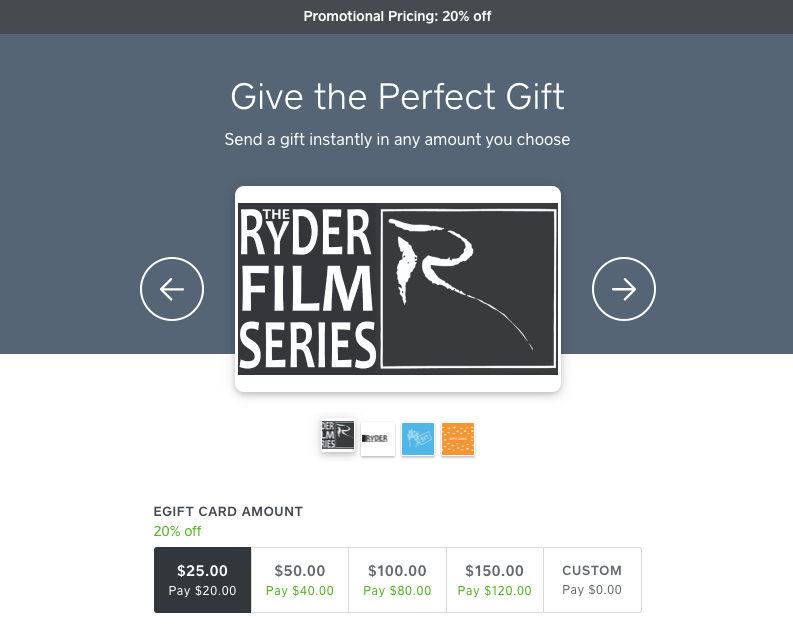 These can be redeemed at Bear's Place and at our campus screenings. There is no expiration date.
You can order a gift card for $25, $50, or $100. Actually, any amount will work – $37.25 would be fine. Although it would be harder for us to do the math. What math, you ask? We're offering the gift cards right now at a 20% discount. So if you were to purchase a $50 card you would save $10. If you were to purchase a card for $37.25 you would save . . . well, see, now we're not so sure. When in doubt, stick to round numbers.
Of course, we also gratefully accept donations.
With a donation, you can designate a community organization of your choice and we will share the donation with them in the form of recognition on our website, in our magazine, and prior to Ryder films, in the theater, on the movie screen.
For those of you who have purchased semester passes, we will offer pro-rated refunds or credit toward a new pass. We are talking to film distributors about creative ways to continue celebrating cinema as a communal experience… albeit apart from one another. We should know more about this in a few days.
Stay safe. Be smart. Keep your chins up.