A Cure For Your Post-World Cup Blues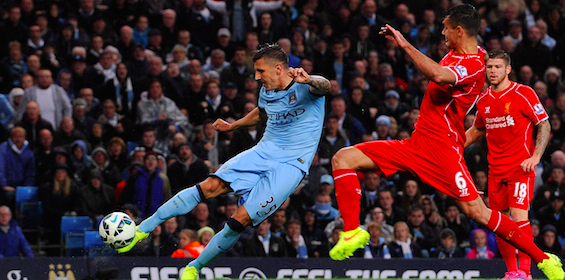 Welcome to England ● by Michael Roberts
The 2014 FIFA World Cup in Brazil has come and gone, but that doesn't mean we have to wait four more years to see dramatic, exciting, world-class soccer.  England's top-flight soccer league, the Barclays Premier League, has a new season underway and it is on television in the USA almost every weekend through May of 2015.  The drama unfolds over the course of a 38-match-week season in which three vital points for a win are at stake in every match; it isn't a surprise these days for the season's champion to be determined by a margin as small and fragile as a few points, so every single week is important to the various clubs' ambitions.
World-class players, world-class goals, last-second heroics, last-second heartbreak, historic clubs, stadiums, and famous anthems sung by passionate supporters, high-powered local rivalries, upsets and blowout-wins, goals galore, promotion and relegation, and players from every corner of the world – these are just some of the qualities which make England's Barclays Premier league the best 'football' league in the world, and so much fun to watch. As of mid-September, the BPL is heading into just match-week four, so there's still plenty of time to catch on if you're experiencing soccer withdrawal after this year's wonderful World Cup. To help you get into it, here is a guide to last season's top seven clubs, their outlooks for the current season, and how to catch them on television in the USA.
Manchester City Football Club: Last season's champion, and certainly among the favorites to win the title again this year.  The club's home color is sky blue and their manager/head coach is Manuel Pellegrini.  Until recently, they had mostly been known as the "pesky little brother" to Manchester's most famous club, Manchester United, but everything changed in 2008 when the club was purchased by the wealthy Abu Dhabi United Group, owned by Sheikh Mansour bin Zayed Al Nahyan, a member of the Abu Dhabi Royal Family.  This change in ownership resulted in the immediate purchase of Brazilian forward Robinho for a British record transfer fee of £32.5 million, and unprecedented spending sprees in the subsequent transfer periods ever since.  They have now assembled a world-class team full of experienced, international superstars and consistently challenge for all available trophies.  No longer just a "pesky little brother," Man City is now a full-fledged powerhouse – a formidable opponent for any of Europe's top clubs.  They scored a league-leading 102 goals last season, thanks to their confident, smart, attacking style of play.  After a summer which saw them strengthen yet again in the transfer window, there's littke doubt they will find their top form and be competing for trophies at the end of the season.
Liverpool FC: Last season's runner-up to the league title, and an outside favorite to win it this year.  Their home color is red, and their manager is Brendan Rodgers.  Although dominant in the '60s, '70s, and '80s, Liverpool FC hasn't managed to win a league title since 1990.  In fact, the 2013-2014 season was the closest they have come to doing so.  While the league title has proven elusive, they have managed to win other major trophies to fill the void and have remained a competitive team yearly.  Having scored 101 goals in the league last season, they are not a team to be taken lightly.  Thanks to their stylish, quick, unselfish and passing-based style of play, many described them as also being the most enjoyable team to watch.  Uruguayan forward Luis Suárez, was perhaps the best player in the world last season.  Suárez's Liverpool career has been riddled with controversies; however, he managed to stay out of trouble last season and produced his best football yet, scoring 31 goals.  This caught the eye of FC Barcelona, and despite Suárez biting an opponent at the 2014 FIFA World Cup while playing for Uruguay and earning a four month suspension (this being his third such infraction), they bought him from Liverpool for a whopping £75 million.  Liverpool used that money and more to uncharacteristically acquire nine players this summer to address three concerns: fixing the leaky defense, which was their major weakness, trying to fill the attacking gap left by losing a player of Suárez's brilliance, and improving the quality of the depth of the squad.  As the new players settle, so, too, will Liverpool's form, and we can count on a lot more wins.
Chelsea FC: Last season's third-place finisher, but this year's top favorite to win the title.  Their home color is blue, and their manager is José Mourinho.  The self-described "Special One," Mourinho actually had a previous stint with the club from '04-'08, but after five seasons and two jobs elsewhere, the fan-favorite manager made his return to the London club last season.  Sometimes derided as a tactically negative and defensive coach, Chelsea managed a pretty healthy 71 league goals last season, though still a far cry from Man City or Liverpool's tally.  Backed by the financial billions of Russian owner Roman Abramovich since 2003, Chelsea has annually outspent most other clubs during transfer windows.  They seized the opportunity to improve in critical areas again this summer with high-profile purchases of Spaniards Diego Costa, and Cesc Fàbregas, and others.  With three wins and 11 goals scored already, we can expect them to improve on last season's goal tally, and just maybe earn a title in the process.
Arsenal FC: Last season's fourth-place finisher and another team with an outside shot at the title this year.  The club's home colors are bright red and white, and their manager is Arsène Wenger.  With 18 seasons at the Arsenal helm, the Frenchman Wenger is not only the club's longest-serving manager, but the longest-serving manager in all of English football.  Dubbed "Le Professeur" for his studious and philosophical demeanor, he promotes an attacking mentality tactically, with the idea that football should entertain.  For many years he and Arsenal were reluctant to splash the cash in the transfer market, instead focusing on training young players and developing them into stars. That philosophy has changed somewhat in the last couple of years by necessity, with Arsenal buying a player last summer for a price in excess of £40 million, a player this summer with a cost of £30 million, and making a few other expensive acquisitions just to keep pace with the big spenders of the league. Having spent 17 weeks of last season at the top of the league table only to succumb to injuries and lose momentum, the club is looking for a big comeback.  With Chilean World Cup and ex-Barcelona star forward Alexis Sánchez joining them this summer, their ambitions are as high as anyone's.
Everton FC: Last season's fifth-place finisher and a team with top-four ambitions this season.  The team's home colors are royal blue and white, and their manager is Roberto Martínez. Unable to compete financially with the other clubs in last year's top seven, Everton exceeded expectations in Martínez's first year as manager of the club after longstanding former manager David Moyes left the club to become the new manager of Manchester United.  Martínez installed an attractive, possession-based style of football which yielded quick and positive results with only one loss by Christmas.  Fifth place was the club's highest finish in five years, and it inspired an uncharacteristic splash in the transfer market this summer with the club purchasing previously on-loan striker Romelu Lukaku from Chelsea for £28 million, and making a few other small-money acquisitions.  Cracking the top four this season will prove extremely difficult; nevertheless that is their objective and with Martínez's tactical nous, they will definitely have a chance
Tottenham Hotspur FC: Last season's sixth-place finishers and a top-four contender this season.  The club's colors are white and navy blue and their manager is Mauricio Pochettino.  Finishing sixth last year was a major disappointment for Spurs; in the summer before the season started, they sold their best player for an unconfirmed world record transfer fee of £85 million to Spanish giant Real Madrid and went on a subsequent spending spree, buying two players for club record fees of £26 million each, plus a host of other expensive signings.  However, not all of them settled into their new lives in London quickly, which led to inconsistent performances on the pitch, and the mid-season dismissal of then-manager André Villas-Boas.  A temporary replacement manager was brought in but the turmoil continued, as the players didn't seem to believe in or trust him, and nor did the chairman Daniel Levy.  After such a tumultuous season, Spurs named their new manager in Pochettino, and the task for this season will simply be quiet progress.  Establishing a style of play, gaining consistency and getting the star signings from the previous summer playing well would satisfy most supporters, with hopes of taking a bigger leap forward next season.
Manchester United FC: Last season's seventh-place finishers and top-four hopefuls this season, with an outside chance at a title run.  Club colors are red, white, and black, and their manager is Louis van Gaal.  To suggest last season's seventh-place finish was a disappointment would be an incredible understatement.  Under the tutelage of longstanding former manager Sir Alex Ferguson, between 1992 and his retirement in 2013, the "Red Devils" won 13 league titles and other trophies.  Supporters had gotten used to the club winning almost every year. The transition to Ferguson's handpicked successor David Moyes, however, proved to be a rocky one, and perhaps it was inevitable that whoever followed Ferguson would fail due to the immense pressure to continue the tradition of success.  Not wanting to make a knee-jerk decision, the club kept Moyes on as manager until the bad results made his position untenable, and with four games remaining in the season, he was fired.  After a positive World Cup performance with the Netherlands and countless other jobs well done in his career, United made Louis van Gaal their new manager in the summer of 2014.  In a desperate move to vault them back into the elite echelon of the Premier League, Manchester United made several big-money purchases of players mostly at the midfield and forward positions, which were not necessarily their biggest problem areas.  They most needed help in various areas of defense, and the expensive defenders they did buy play the same positions as each other, and are injured or otherwise unfit to play yet, so they didn't exactly address their most critical needs this summer.  However, they can perhaps compensate for the goals they will inevitably allow with the goals they will inevitably score; they acquired two very expensive forwards in Ángel Di María and Radamel Falcao, who are world-class talents, and who might just provide enough firepower to get them back to where they want to be.
For those who enjoyed the World Cup, there is more world-class soccer to be enjoyed.  America is very fortunate to have complete television coverage of every single game of the Barclays Premier League.  Not even the UK itself can boast that fact.  Live matches are generally shown early on Saturday and Sunday mornings and on Monday afternoons on the NBC Sports Network and are available to be live-streamed on the online platform NBC Sports Live Extra, for which there is also an app for mobile devices, for free as an added service for subscribers of participating television providers.  Now is as great a time as ever to get into it, so pick a team and tune in.
The Ryder ● October 2014