Trashion Refashion 2014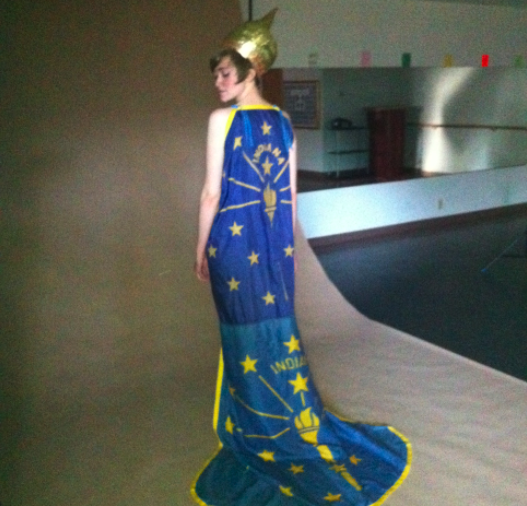 Or, How I Found Myself Designing Couture Clothes from Materials Found in Dumpsters ● by David Ebbinghouse
[The annual Trashion Refashion Show is a community fashion event that promotes sustainable design. Compulsively creative conceptual artist David Ebbinghouse is one such designer and he discusses his work in the essay that follows. Reading about sustainable fashion design is all well and good but attending the show is even better — April 27th at the Buskirk-Chumley Theater.] 
I didn't start out to be a fashion designer. I have been involved in the use of discarded materials in my art projects since the early seventies. Most people would call me a conceptual artist or a performance artist. I don't think in terms of categories, so I am open to problem solving of all different types. I don't define art in the way most people would. In fact, I usually don't define it at all. I just do things and usually you can call whatever comes of my explorations "art."
I guess it all started with T-shirts. I have an artist friend who screens prints his own T-shirt designs as his way to support himself. Whenever I would visit his loft in New York City in the late seventies and early eighties, I would go through his box of test shirts. These were randomly printed tests, printed on the inside and out, and some of these were the best juxtapositions and accidental masterpieces I had ever seen; those were the ones I wanted. He would sell them to me for two bucks a shirt! In this way, I got some of the hippest shirts imaginable. They were William Burroughs "Cut Up" methodology in wearable form. I wore them and wore them and wore them out. I tried to save them by grafting them onto T-shirts found in the dumpsters. I would sew them together at the neck and arm openings and tack down some of the larger rips. The look was punk. It left me with an excess of dumpster T-shirts to work with. That's when I started slashing them. By the nineties, the slashed punk look was long over. So the question was how to do it without it being cliché and passé. The answer lay in using the structural possibilities of the knit and being very precise in cutting.
So now I'm going to tell you some of my secrets. Here's how you can duplicate the looks I put together for the 2012 Trashion Refashion Show, starting with "Foxy Lady."
Designer David Ebbinghouse with Hayley Plageman (Foxy Lady) and Sarah Nadolski (Party Girl)
Photo/JoAnn Latvaitis
■
You need a piece of "peg board." It is basically a piece of Masonite with a grid of holes drilled into it. Pull the T-shirt over it so the shirt is stretched tightly. Then take a piece of chalk and find each hole and push the chalk into it and rotate. Do this for every hole (back side as well) and you will have a very precise grid of dots laid out on the shirt. Now, with a very sharp knife ( I use Xacto), connect two of the dots with a slash. It you do a row of diagonals across the front and then do the next row with the diagonals going the opposite direction, you will get a herringbone pattern. This drapes nicely on the body. You do it all over and you have a very "body-con" nineties look. Different patterns produce different effects. You might start with a diamond in the middle of the front. All the cuts to the left go left and to the right go to the right and on up.. Below the center it is the same but the diagonals are reversed. You can leave some areas open and some closed for a peek a boo effect. You can both conceal and reveal. This does not look "Punk" if you do it carefully and precisely. I took the look one step further with my "The Dark Ryder" outfit in 2013, but we'll get to that presently.
Another way I got a very nice tight fitted look out of cotton knits was by ruched slits. Here's how you can get the effects I used in my "Party Girl" outfit: Make a series of horizontal slits that go down the length of the shirt about four inches wide. Pull the top band down and reach through it to get the next one– pull it through the loop and then do the same with the next band pulling it from behind through the loop you have pulled down. Go all the way down the front and sew down the last band. This makes an open crocheted band down the front and also pulls in the fabric making the shirt narrower. An XXL shirt can be made into a sexy little dress. You can make two more vertical bands that start just below the breasts and that will pull in the fabric even more at the waist. You can fit it in this way for whoever is going to be wearing it. The "look" isn't just the dress, its shoes, accessories, jewelry; and for jewelry, I love using pop tops.
It was last year with my "The Dark Ryder" look that I elevated the slashed T shirt to the elegance and mystery of Haute Couture; it was the accessories that pushed it over the top. I started with a 50% cotton, 50% polyester black XL T-shirt that was printed with The Ryder logo. Since it was very thin with age and filmy and lent itself nicely to my herringbone pattern slashing, it made a flowing tunic. This was put on over pants that were made from black chiffon window drapes fabric. Here's how they were made: Two rectangular pieces are laid down one on top of the other. In the middle of one long side, a "U" shaped piece is cut out of both overlaid pieces. The rounded part of the "U" extends towards the middle by the distance of the waist (the top edge) to the bottom of the crotch (the "U" part). These edges of the "U" are sewn together. When the piece is straddled with the legs on either sides of the "U", then the two back pieces are wrapped around to the front and tied and the two front pieces are wrapped to the back and tied. These wrap pants are open legged but the two edges overlap around the outsides of the legs. Once again, there is a reveal/conceal aspect as the layers overlap in the sheer fabric, and the top is covered by the tunic. The effect is that of a sheer skirt. So far, so good, but the head piece/ hat is what totally made the outfit. I started with making a helmet of black leather (once again from a jacket from the dumpster) sort of like what the early aviators wore but minus the goggles. On the top I stitched a receiver piece of Velcro. Using black heavy duty cat-proof plastic window screening (left over from fixing the screens after my cat had fun with them), I cut a two foot circle. I attached this to a small "hula hoop" and sewed the other Velcro piece in the center. From the edges of the hoop I sewed skeins of human hair that I took from a wig found in the dumpster. This fringe hung down from the edge and when the disc was secured to the top of the helmet/hat (with the velcro), it gave the outfit a very Goth/Kabuki feel. Black over-the-elbow gloves completed "The Dark Ryder" outfit. "The Dark Ryder" definitely got the audience's attention with Elizabeth Grooms modeling it with great sophistication.
Elizabeth Grooms as The Dark Ryder in the 2013 Trashion Refashion Show; Her Hat is Trimmed with Human Hair
■
Another outfit that used a simple wrap/ no-tailoring approach was made from two Indiana state flags also found in a dumpster. The two were sewn together one above the other with a yellow border around the outside edge of the whole piece. It could be hung on the wall as an art piece, as the two flags are the same but different in many small ways. One has faded to a different shade of blue, one is silk screened and one is appliquéd, the golden yellow colors are not the same shade, etc. To wear it as a dress, center the logo of the top flag on the model's back and wrap the two sides around to the front overlapping them. The two corners go over the shoulders and tie to the top edge of the flag at the shoulder blades through grommets on the edge. The dress is longer than the model is tall, so it trails behind with a train. Sarah Nadolski ("Sarah, Queen of Indiana") needed a crown. Fancy Feast Feline Food cans have anodized gold pop tops and lids. Starting with a metallic gold cone as a hat, a crown was built up by overlapping the gold lids and sewing them down in a kind of fish scale pattern. The booties (once again, from Plato's) were given the same fish scale overlaps of gold lids which extended out past the heels like little wings. A stole was made by sewing together different sizes of small American flags that had been picked up out of the streets. Remember all the flags that were hung out of car windows after the gulf wars? I picked them up on my morning jogs after they came loose and ended up along side the roadways. I usually got a few after the 4th of July parades as well.
[Image at the top of this post: Sarah Nadolski (Sarah, Queen of Indiana) with her crown made of Fancy Feast cat food pop top lids.]
■
Now I am designing and building the pieces for this year's show. I started thinking about it last year as soon as that show ended. The ideas started to accumulate. But like a leaky faucet you can't quite get closed, I can't just turn off the ideas when my requisite three outfits are done.  I actually have four complete outfits and now I am making accessories. I already have four hats and I'm working with some new ideas off in a new direction. Maybe you'll see those next year. I've already started a pop tops mini skirt.
Ten Ideas About Designing Trashion Refashion
All of my designs are based on responses to materials and objects. I don't make sketches of "looks" and then interpret them. I am actually making sculptures out of materials and not so much designing from my imagination. I am being imaginative with my use of materials. "How can I use these two Indiana state flags I've found in the dumpsters?"
I do have a muse in mind when I start working up a "look." Then I have a direction to follow as I develop the materials into a concept. I want to amplify some quality I see in them, and I want them to feel that it is "them" so they can feel good wearing it. I also want to provide them with a fantasy of themselves that they can inhabit and embody on the runway. It can't be faked.
It has to be a real garment, not a stunt just for the show. It can't be something glue-gunned together for one walk down the runway. It has to be more than just a costume. Fashion, not Halloween.
It has to look good, and not just in the context of the reuse concept of the show. It has to be something that could be worn somewhere else and still is viable and attractive. It can't just be shocking. It has to be convincing. It has to come from a definite point of view.
I want it to be really wearable, maybe not totally comfortable (i.e. high heels), but manageable. If you can't sit down in it, it has no business on the model. She will suffer standing in her high heels at rehearsals with no way to get off of her feet. She can't even bend down to slip out of her shoes. Unless you provide her with a slant board to lean back on, you're not a designer, you're a sadist. I love the high heels, but I worry about them, too. They are dangerous.
There should be some "statement." Fashion is a communication system and it comments on both the past and the future. In that way, it references the culture at large. I hope I notice something in my designs that is also showing up in the fashion magazines. (This year it is the use of nylon mesh). I'm not trying to copy something I see, but noticing if I have tapped into something that other designer are seeing and doing. It should be synchronicity. I'm trying to "say something." It is not random.
About that glue gun in #3.  Nothing against glue guns. I'll probably find myself using one at some point on a headpiece/hat. But there should be some craftsmanship involved. If you don't know how to use a sewing machine, that's a distinct disadvantage in making clothes. I've had to ask my wife Marilyn for help. Fortunately, she is patient with me. If I don't like how it's going, I seam rip it and re cut and repress and re pin. She knows how to use the sewing machine. I insist that details that won't be seen when the model walks the runway are still important. (see #3).
A fashion show is a theatrical event. Gestures and accessories have to be big enough to be read clear in the back of the theater. So there needs to be some drama. If the audience gasps when the model comes out, you've done it right.
About the models: At first I wanted to use my wife, Marilyn. She said, "They only want young girls." She meant the audience. So now I use young, beautiful girls, and I am lucky enough to get them and design specifically for them. Uh oh. I'm promoting and unrealistic view of women. I'm a sadist who wants to ruin their feet with those dangerous and unhealthy high heels. Can't I see the beauty in ordinary women? No. That is not what you the audience wants to see. Fashion is fantasy. We have inherited a standard of beauty from the ancient Greek civilization in our Western culture. Statues of Greek gods and goddesses were depicted as being the ultimate of physical perfection as a metaphor for their divinity. Venus had to have the most perfect and physically beautiful body imaginable because she was a Goddess and Divine. I want my models to be goddesses and so do you. I want them to look and feel like goddesses and I want you to see them as such. This is the fantasy. It is art and artifice that create it.
I want to have fun. I'm not designing a product line. I'm not trying to make a ton of money and become famous. I'm trying to be as creative as I can and make some kind of meaningful art. I'm trying to inspire you to have a different attitude towards all the material in our materialistic society. I want to have fun with it, respect its inherent possibilities and not just take it all for granted and needlessly waste it. I want to use my creativity in all aspects of my life and I want that to inspire you to do so as well. I hope you will enjoy what I do. I will enjoy it, that's why I do it. I hope you will come and see what I and the other talented designers have for you to see at this year's show!
The Ryder ● March 2014