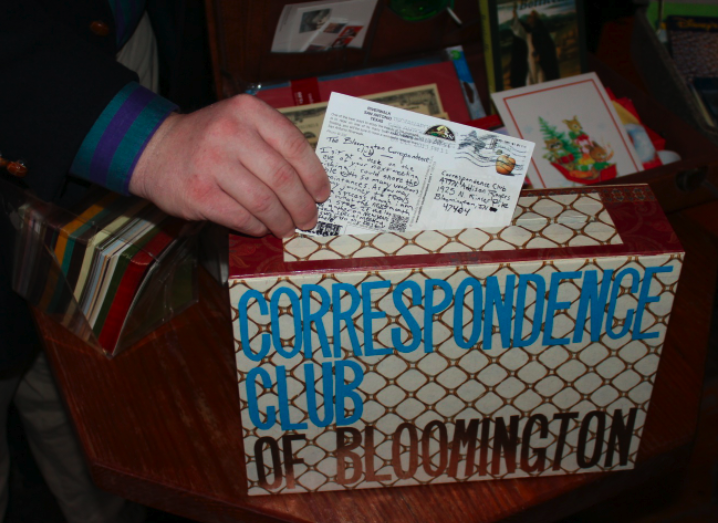 ▼
◆ by Hannah Waltz
Addison Rogers assumes his station beside an open briefcase stuffed to the brim with postcards, festive stationary, stamps, and writing utensils. A makeshift mailbox labeled "Correspondence Club of Bloomington" sits among the post supplies, announcing the Club's business. Twice a week Rogers sets up shop in a downtown café—today he's at Soma—encouraging customers to write a bit of snail mail. A man at a nearby table asks him what he's doing. Rogers makes his pitch.
Addison Rogers
■
"This is a correspondence club," he says. "I'm just trying to get people to write more." Rogers' motives are clear and simple, but to what end? Although it's still getting its wheels turning, the Correspondence Club of Bloomington celebrates snail mail and the underappreciated tangibility of a handwritten letter. "There are people who have said that I'm trying to revive this dying thing, but I don't think it's dying. I think it continues. It's still really cool having something in your hand that someone else had in theirs."
The Club is held on Tuesdays at different locations where Rogers invites customers to pop a squat and write a postcard or two. "I've got about 10 to 15 regulars. It's been mostly friends so far but I've also managed to get a few strangers to sit down and write," says Rogers. The Club has no regular attendance rules or membership requirements—it's virtually obligation free. That being said, Rogers does encourage his "members" to make writing and sending snail mail a habitual activity. "I've been calling them members. There's actually a debate as to what makes a member of the Club. I say you're a member if you drop something in the box." No hidden fees (except stamps). No cheesy t-shirts. Just written word, from one human to another.
The first "official" meeting in September of 2013 doubled as both a launch party and as a collective birthday gift. "I'd been wanting to do this for years," says Rogers. "I just kept talking about it, and my friends said they would be into it. So this year I decided it was a good way to mark my birthday, September third. So I said 'Don't get me anything for my birthday, just come participate in the Club.'"
Jessika Griffin, friend of Rogers and frequenter of the Club, has never been in the habit of writing or sending things via snail mail, until now. "The only time I ever wrote to anyone was when I was at summer camp, and my mom sent me stationery." says Griffin.
■
But Rogers proffers the CCB as a more personalized option for reaching out than what has become the preferred way to communicate, i.e. email. Or Facebook message. Or even Skyping. Alternatively, the Correspondence Club takes the technology-free, time-consuming approach in an almost nostalgic fashion. No, it's not the most efficient way to correspond; in fact, it's fairly antiquated. While most participants have shown their fervent support for the Club, Rogers has also encountered those who see his efforts as fruitless. A man at Soma quips that "we already write more than we want to." Given the age of technology and convenience in which we find ourselves, this less-than-enthusiastic attitude isn't surprising. Yet it seems to yield more pleasure to both the writer and the recipient of a letter or postcard than, say, an email written in generic Times New Roman.
"I get a nice little zing and a smile when I open my mailbox and see my name handwritten by someone I know and that cares enough to write," says Rogers. "I don't disparage people who don't write. It takes a moment and there are a few steps to the process. But I hope with the Correspondence Club I can show people that the reward far surpasses the effort."
A mailman walks into Soma, just minutes after we begin the interview, and a chuckling Rogers waves off his arrival as coincidence, but he's also sipping from a mug that sports the United States Postal Service emblem. They greet each other and Rogers updates him on the goings-on of the Club–two men of similar trades in a small town talking shop. "He's even given me a couple of tricks to get people writing," says Rogers. "He sends comics to his nephews in installments, and, if they want the second half to see what happens, they have to send him a letter back."
Rogers' own history with the U.S. Postal Service kicked off with his family's monthly subscription to Radio AHHS, a music magazine for kids. During his childhood he always looked forward to the issue's delivery straight to his mailbox, an excitement that inspired him to begin a correspondence of handwritten letters to a cousin. "She lived in Arizona and we kept in touch that way. Now she's like, 'We wrote each other?' But it meant a lot to me."
In a sense, the Club keeps alive Rogers' childhood affinity for postcards—his briefcase threatens to overflow with them. Having eventually matured into a pretty hefty assemblage, Rogers estimates that about a third of his current stock was acquired in his younger years. "I always collected postcards, I don't know why," says Rogers. "They're just everywhere, or at least they used to be. They aren't as readily available as they once were." These days Rogers is in the habit of buying postcards anywhere he can find them. Salvation Army and the Opportunity House are among his favorite places to scavenge. "In the two months before I started the Club, I decided I'd start collecting stationary. It gives me a good excuse to pick up stuff from [the Opportunity House]," says Rogers.
This past October, Rogers promoted the Chicago-based South Side Letter Writing Club's initiative called "31 Postcards in 31 Days" to encourage Bloomingtonians to hang out and write postcards at his selected locales. "I found this collection with old photos of Indiana from the 1950s that I really wanted people to use. I think people like to write on postcards that are local."
---
A handwritten letter or postcard yields more pleasure to both the writer and the recipient than, say, an email written in generic Times New Roman.
---
Other projects around the world feed into to this snail mail movement that Rogers is supporting. For example, an enterprise similar to the Correspondence Club called Postcrossing specifically facilitates postcard exchanges all around the world from one participant to another random participant. A Google search for "pen pals" provides hundreds of sites in which aspiring pen pals can exchange addresses, even internationally. Clearly Rogers is not alone in his efforts to encourage old-fashioned, handwritten correspondence, no matter how thwarting the Internet may be.
Another week, another CCB meeting, another venue. This week Rogers sets up shop at a booth in the Owlery. His briefcase and plastic red lunchbox advertise his stationery while he waits for people to come write, dressed to the nines in a corduroy blazer, even sporting a pocket square. The waiters come and go, allowing him to do his thing for a couple of hours. Friends and strangers alike pick out stationery from the briefcase or a postcard out of his lunchbox, then deposit them into his mailbox for Rogers to feed into the U.S. mail. The convenience and ease of this seemingly archaic process and Rogers' jolly personality keep people interested and supportive of his project.
For members who cannot recall any addresses offhand, Rogers has compiled a list of addresses volunteered by willing recipients, to which members can choose to send something in hopes of starting a dialogue with a stranger. Why not send a card to an unknown addressee? "It's been awesome getting addresses of random people," says Griffin. "In fact, I just sent something to a stranger." Rogers nods his head in agreement. "Even if you don't know who you're receiving it from, it's just nice to receive something, that's not junk mail or a bill."
---
Top 5 Pop Songs About Letters
The Boxtops The Letter
Fats Waller & Billy Williams I'm Gonna Sit Right Down and Write Myself a Letter
The Marvelettes Please Mr. Postman
Stevie Wonder Signed, Sealed, Delivered (I'm Yours)
The Zombies Care of Cell 44
Honorable mention: Allan Sherman Hello Muddah, Hello Faddah
---
In 2011 Rogers signed up for a Redditgifts account and has since been sending and receiving small gifts and letters from other users around the world. "It started with a Secret Santa exchange as far as I can tell, and that's how I got involved," says Rogers of Redditgifts. "I technically am a Guinness World Record holder through that first exchange I participated in. They set a record that year for the biggest secret Santa exchange to have happened."
Rogers continued participating in Redditgifts and developed a steady habit of sending packages and letters in the mail. He has also received some cool international knickknacks in his own mailbox. "So far I've gotten gifts from China, Singapore, and Canada," says Rogers. "I got something called a chapthe from Singapore, which the person described as an Asian hackysack with feathers."
Rogers' involvement in Redditgifts prompted him to advertise the Club on the Reddit Penpals page, which wound up yielding several international mailing addresses that Club members can choose. The Club recently hit the one hundred mark: one hundred pieces of mail, both letters and postcards, have been sent from Bloomington to recipients all over the country and several internationally to countries including England and Lithuania.
When he's not running the Correspondence Club or working at Plan Nine Film Emporium, Rogers is all about music. He and his brother Lewis make up the Bloomington-based band Busman's Holiday, Rogers on the drums, his brother on guitar. They tag-teamed the songwriting process and have played as a duo for the past three years, but in the past the band often performed with accompanying guests. The brothers celebrated ten years of playing together in 2013. Generally the band avoids playing at too many bars; instead they prefer the "DYI scene" at house shows and art spaces. "At one point we were selling the band's merch out of a suitcase too," says Rogers. "We would sell cassette tapes and trading cards from Salvation Army and say 'Even if you don't like our music, we're still offering tapes and trading cards!'" Busman's Holiday will release a new album, A Long Goodbye, in April through the Indianapolis record label Joyful Noise.
Quite the versatile musician, Rogers traveled overseas in 2011 on Jens Lekman's tour, a Swedish musician signed on Secretly Canadian. During this time he drummed and sang with Lekman for two weeks in the U.S. followed by two more weeks in Europe. No surprise, Rogers collected many postcards in his time abroad, which are now up for grabs in his lunchbox.
While munching on a bowl of french fries and buffalo sauce, Rogers reflects on his personal goals for the Club. "I just want people to write more often and more consistently. Mail is a very personal way to communicate. You feel charmed when you find a piece of mail sent from someone you know. At the very least, your grandmother would love to hear from you. Club members have consistently given their best to their grandmas," says Rogers. "Oh, and there's half-price pitchers at the Runcible Spoon on Sunday nights, so don't drunk-dial. Write a postcard instead. It's a great way to show people that you're thinking of them. We should hold on to a piece of this fantastic culture."
When and Where?
The Club is held twice on Tuesday and Thursday: the afternoon session runs from 2 to 4 p.m., and the late session runs from 8 to 10 p.m., at a variety of locations. The CCB meets at the Rainbow Bakery on the first Tuesday of the month, Soma on the second Tuesday, the Runcible Spoon on the third; on the fourth Tuesday of the month the Correspondence Club could be almost anywhere. The first Sunday night of the month, meetings are held at the Runcible Spoon at 7 p.m. About that fourth Tuesday: the best way to keep current with the Club is on Facebook. The page is public; you can check it without having a fb profile.
The Ryder ◆ February 2014